Coop & Rangi set off on their crazy Columbian world adventure, 6 weeks early, with a life experience Coop will never forget. First stop the big USA!!! Colorada here we come!!! Their first hire car was a no-go (as they were told their only option was a 4 wheel drive, due to the snow)! OMG not a sweatshirt in sight.
They were packed for hot, hot & only hot.  Coop raced for 3 amazing days at the mile high bmx track!  Not dropping a race, coming away with the biggest 6 trophys he had ever seen!  Some of the kids were asking when he was going home, hee hee!! Rangi was so proud of his boy he was just beaming from ear to ear!! While dad was packing up the trophies someone stole one them!! So typical Rangi style he went grabbed himself another one!! Coop got to do his first T.V. interview with Rangi so so proud. They met some amazing Americans, and made some lifetime friends!!
Next stop South Carolina Rockhill (Worlds next year).  Rangi thought he better check out the track, meet the locals… typical Rangi stuff !!! Had an awesome time Jarod & Bex doing the sight-seeing stuff … fun parks,naz carz,baseballs with abit of bmx thrown in on the side.
Florida here we come!!   2 weeks build-up for bmx!!! (or so mum thought) Except this time the hire-car is a Dodge Charger,we got to see the videos privately (omg). I'm pretty sure a 12yr old wasn't supposed to be driving or doing burn-outs in the Dodge, not to mention a left hand drive (im sure that wasnt in the insurance clause).  But with a Dad like Rangi, what do you expect!
Worlds in Columbia was amazing,the people the place, just everything!!  The drive from the airport is an experience all on its own!! With a downhill ride down a steep mountain, to die for with just 2 lanes one up, one down ( their driver went through the middle at extreme speeds,!!!   With lots of pull-over confrontations with other drivers!! At 10pm at night Rangi thought this was up there with totally freaky scarey!!! And if youve ever been in the car with Rangi – it says a lot!
Our next phone call from Rangi was "guess what"? I've got a VIP pass out the back ,mean as!!and they feed and give me drinks. (feed being the main word in the sentence) priceless – He was very very excited to say the least!! Rangi's favourite moment ( of course) was watching his boy get World 3. Lots of cuddles would everyone have gotten and I mean everyone!! This was Rangi's favourite holiday ever!!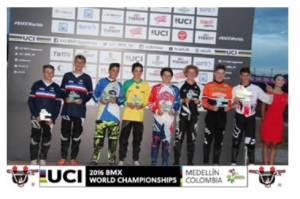 Coops favourite moment believe it or not was not getting World 3!!! But getting to drive the Dodge for 2 weeks with his Dad. He almost talked Dad into buying one next year!! Rangis dream was to cruise to BMX with bikes racks on the roof!!!  But the worse part is he would have!!!!!!!!!!!!
Lisa Merito