A third BMX Worlds has left Caitlin Georgantas happy with her performance and results.
The 18-year-old followed up world competition in Auckland in 2013 and Belgium last year with her best ever returns including making her way into the semi-finals from a big field competing in the 20-inch racing at Medellin in Colombia.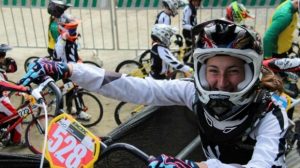 Her preparation was much better than a year earlier when she had to contend with an injury shortly before leaving for Belgium and being forced to limit her racing to the Cruiser class.
This time the Hutt Valley Thunderbolt "veteran" had time to race on a couple of American tracks.
"I got to compete at my first USA state race too. It was an awesome track and I raced 20-inch and Cruiser both days. It was great really, we did some riding, some sight-seeing and some shopping," said Georgantas, a Young Sportswoman finalist at the inaugral Hutt Valley Sports Awards in May.
At Medellin and after two days practice on a "challenging track with long straights" it was all on in the 13-years-and-over worlds' 20-inch racing.
"We had rain delays and track repairs so we sat in the pits for hours waiting to practice and race," the first-year nursing student said.
"So because of that the racing was cut down to two qualifying races. I was absolutely stoked to win the first and place third in the second and reach my goal of making the quarter-finals," the former Upper Hutt College student said.
She then followed this up with a third and her unexpected progression to the semi.
"I didn't manage to make it through from here, coming sixth but I was absolutely stoked," she said.
The result meant Georgantas finished 11th out of a 64-strong female field.
"That gave me a little more confidence for the cruiser racing the next day. "
Here, racing in a smaller field, she rode to a first final, placing 6th and significantly improving on her 27th at Belgium a year earlier.
"I was really happy with all my results. It made all the hard work worthwhile."
Georgantas enjoyed the experience of another country, albeit one where armed police were always very visible.
"It was all very interesting, quite different," she said.
 – Stuff.co.nz