The BMX track at Forrester Park is to receive a $100,000-plus makeover to bring it up to international standard.
The decision to renovate the track comes after a decision to abandon any hope of moving to another location in Dunedin.
The track at Forrester Park is getting a new, higher starting ramp, asphalt turns and a new starting gate, which will meet UCI standards.
Dunedin BMX club captain Brent Rutherford said the sport was growing all the time and the track at Forrester Park was in need of a spruce-up.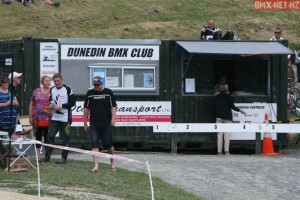 "We want to create a faster-looking track up to national standard so that in the future we will be able to hold national championships," Rutherford said.
"There is a lot of work involved and we are probably only 20% into it so far. It is a quite exciting time for the sport in Otago. We've got good numbers coming through and then right round Otago in places like Alexandra, Kaitangata the sport is going really well."
He said to get the track in better shape it needed some serious investment and the club would be spending more than $100,000 on the project. It was looking for sponsorship to finance the developments.
The track will not be getting any longer – it takes between 35 and 40 seconds to get round it – but the corners will be sharper and it will be a true test for any rider, including the fully-fledged national representatives.
The likes of Olympian Sarah Walker could ride on the track.
Rutherford said the sport was growing and the club had to recognise that.
"The Dunedin BMX club is believed to be the oldest BMX club in the country and we have been at Forrester Park since the mid-'80s. The sport has really grown in that time and we need to move with the sport too."
Many adults who had ridden when they were children were coming back into the sport and bringing their children along. The Dunedin club had about 80 members.
The upgrade will come from funding from various trusts and club funds, while contractors were donating their time and machinery. It was hoped to have the track ready for the summer season.
The club had looked at a new site at Walton Park at Fairfield as the site at Forrester Park was small. Rutherford said the Saddle Hill Community Board had been very supportive, although there was some local opposition. In the end the site had a subsidence issue and was not suitable. A small track has been built at Walton Park.
"We were still looking around, consulting with the council. But the longer we look the further we get behind. So we decided we will spend some money and build here even though it is not really big enough.
"But if we wait another four years then the riders we have here can't compete at a national level."
– Otago Daily Times