Maia Colman-Savage is fizzing after having her stolen bike replaced thanks to local community support.
Maia, 12, has won international awards for her BMX racing, including two Australian national championships and BMX world champion for her age group in 2013.
But training came to an abrupt halt when her bike was stolen while she was at school last Tuesday.
It was the second bike of hers stolen from Hastings Intermediate School in just months.
Hastings Bike Barn manager Jess Smith said she had several people approach her about helping Maia get a new bike so she felt compelled to do something.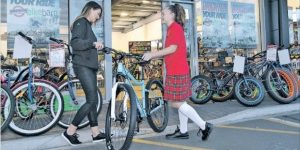 Miss Smith was inspired by the huge outpouring of community support for Maia as well as the two insurance jobs for stolen bikes she dealt with in just one day.
"It's becoming a really common thing. We've just had so many people report their bikes being stolen. It hit a nerve."
Maia was ecstatic when she left the store with a brand new Merida mountain bike, just like the one stolen from her.
"I was really surprised because lots of people had offered to give me a bike," Maia said.
People from as far as England had offered help, and her mum, Mandy Colman, said even strangers had offered support.
The keen racer rides with Triple J BMX, the national racing arm of Hawke's Bay BMX since moving from Australia to Havelock North in September. She belongs to Hastings Intermediate School's sports academy and her father trains her and her two brothers and one sister.
But as the mornings and nights became darker Maia relied on her daily 60km bike rides to school for fitness.
"Now I can get back into the training and it will really help me."
Bike Barn were not the only people who leapt to Maia's aid, Wairoa's Craig Gemmell also offered. He and his siblings run his late father's hardware store, Angus Gemmell Limited, "basically the only one shop that sells bikes in Wairoa", Mr Gemmell said.
Reading Hawke's Bay Today's article about Maia's stolen bikes took him back to when his bike was stolen at her age. "Bikes become like mechanical pets. I treasured my first bike, even though it was a real dunger."
He said he was gutted when it was stolen.
Mr Gemmell was happy to learn Maia now had a new bike and extended his offer to a new helmet, or a light, anything that had been taken along with the bike.
Maia's mum said she never hoped the thief was found but issued a message that to some a bike was not just a bike, stealing it had a "detrimental effect".
She had since filed for insurance in case they were targeted again.
Ms Colman did not blame the school but she did say the lock-up area needed to be more secure.
A police spokeswoman told Hawke's Bay Today bikes could be highly valuable items and urged people to use common sense when leaving them in public places.
"Try to park your bike in a well-lit area and chain it securely to a bike rack or fence to help prevent opportunistic crime. Owners are also advised to keep a record of their bike's serial number," she said.
– Hawkes Bay Today