Luck, it seems, has nothing to do with where you end up in the participation pyramid of life when it comes to sport.
The secret, it appears, lies in the genetic make up of individuals so that takes the guess work out of what they'll end up playing. If they aren't engaging in a sport then it's probably because those genes are simply dormant now.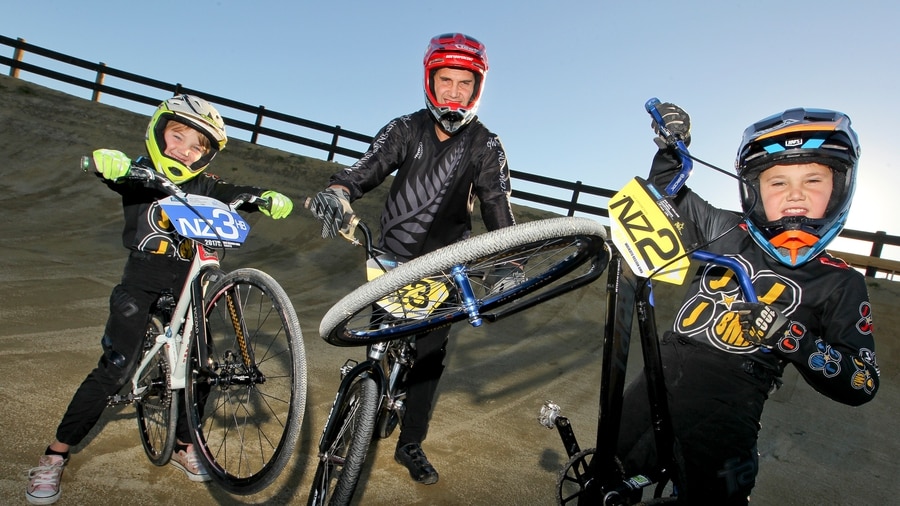 The Waite family of Hawke's Bay go a long way to lending credence to that theory.
Take a close look at Jason Waite, of Clive, and you'll find his preferences are threaded in his X and Y chromosomes.
Put another way, Waite's genes were already loaded like cartridges in a magazine of a gun. All the 39-year-old BMX enthusiast has been doing is letting his lifestyle squeeze the trigger.
Ask where the passion for BMX comes from, he replies: "My dad. He was a good trainer."
His father, Robert Waite, has been living in Perth, Australia, for almost 15 years and closely follows his grandchildren's progress here.
Waite's children, Tyler, 10, and 8-year-old Millie, both attending Clive School, go even further to endorse that.
Waite took a break at 17 to embrace kickboxing and British jiu jitsu before meeting wife Catherine to do their big OE before marrying.
"You get so far in sport and there's no one there to push you or there's nothing left in that sport to achieve then other sports come in so you have a pathway to something different."
When he starts something he always wants to finish it.
Waite, who coaches elite BMX age-group world championship-bound riders Amy Martin and Stevie-Lee Reuben, hopes some of that attitude of his rubs off on his proteges.
"I know the two girls I'm training have really got that urge to win," says the self-employed auto electrician. He would love to be at UCI BMX World Championship in Rock Hill, South Carolina, in the United States from July 25 to 31 but the demands of life mean he won't be able to afford it.
"They definitely have the skills to do it. It's just that the track may not be technical enough for them because it looks quite mellow," says Waite after analysing some footage on the internet.
Some of the jumps will be testing but he reckons they will adapt well.
Reuben, he feels, has all the attributes but will need to come out of the gate quicker after all that hill training.
He emphasises Tyler and Millie are on that well-trodden path, too.
When Tyler was 4 years old he was raring to compete on a bike. That's when Waite resurrected his own riding after a hiatus with fatherhood and travelling.
"Millie was riding with the trainer wheels off from the age of 2," he says, suspecting she was simply emulating her brother's feat.
He believes Tyler often sees him performing BMX tricks and quietly goes away to mirror them without any tuition.
The father and his children were all on the podium at the BMX National Championship in Te Awamutu during Easter weekend.
Waite was third in the 30-39 age-group category, Tyler was second in the 10-year boys' division, in a field of 46, and Millie was third in the 8-year girls' section.
"He had won every race through to the final where he came out last [from the gate] but got to second at the finish line," he says, revealing Tyler is a slow starter and tends to succumb to nerves a little.
Waite says some rivals at his age are physically blessed and tend to use that to their advantage with robust starts.
In the off season, his children engage in rugby, cricket and soccer although trampolining has caught their fancy and offers its share of mental gymnastics that help when it comes to pushing the boundaries in the BMX arena.
"In some of the [trampoline] jumps they have to learn to get their heads around whether it's possible or a bit scary but when they conquer it they move to the next level."
In summer, the Waites tend to gravitate towards the BMX circuits in Hamilton, Taranaki, Auckland and Whangarei amid training sessions four times in a week.
Waite chuckles when recalling how his father used to train them like boxers, barking from the back of his Ford Escort van, at the former Fern Hill drag strip along State Highway 50.
"He used to have a bar at the back of a truck so he used to hook on to our handle and drag us down the road and yelling at us to pedal so, yeah, he was a dag."
A laughing Waite says you can't train youngsters like that these days although the evolution of jump tracks negates such practices.
"Nowadays it's mostly jump to jump with hardly any pedals in between but back then there were hardly any jumps and most of it was pedalling so you had to move a lot."
BMX has been an Olympic sport since 2008 so youngsters don't need much inspiration if the desire is to ascend to the higher echelons of the sport.
He says BMX is akin to a sprint so riders tend to use up a lot of oxygen.
Waite, who has been coaching at the HB BMX Club for five years, says the code keeps him fit.
"I like the ability to train because I'm 40 and it keeps me in good shape because of BMX. If I wasn't there I wouldn't be as healthy as I am because I wouldn't have anything to push myself towards doing."
Pushing oneself too much at the start does put riders at risk of breaking bones but Waite says he hasn't had that experience for a long time.
"Once you've got the technicques and skills and work on them long enough you don't fall off. I'm pushing it but then I know when not to push."
Sometimes he finds the super class (younger) division beckoning him but he is mindful to give them guns some room when push turns to shove in the tussle.
"You still have to go to work on Monday."
– Hawkes Bay Today