A former Tokoroa BMX National Champ has returned back to his old stomping ground a winner.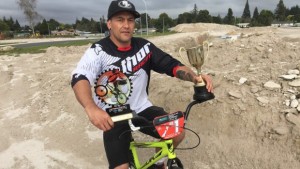 Dion Newth, 42, is officially ranked as number one after winning the 40- 44 Cruiser title.
Newth led the pack while competing against 24 racers at the 2016 BMX NZ National Championships.
Feeling quietly confident he said a season of first place wins set him up as a threat to rivals.
"I led all the way. I had a point to prove," he said.
"Everything just fell into place for me. I ran the perfect race."
Like water of a ducks back Newth dominated on the 400 metre track.
Winning three qualifying races, the finals proved a breeze as he led from the front line.
Newth returned home from Queensland in 2015 and needed to find something to do.
While he had retired from racing 12-years ago, he decided it was time to get back on his bike.
He raced his first season in September last year the odds have weighed in his favour since.
Even breaking a arm at the start didn't deter the veteran from pushing forward.
A winning performance at the Northern Regional and the Auckland Championships kept competitors on edge.
Newth placed second at the Oceanic Champs which is rated one step below the World's Champions.
"In my mind I came first for my age group.
"The way it worked out is the class was younger than mine so they didn't have enough to compete in so they moved it up into ours.
"They guy who won in the age group lower is the one who beat me."
The goal is to retain his number one placing next year and race at the World's Championships at Rock Hill, South Carolina.
Back in the day Newth proudly wore rode the 886 to show where his roots stem.
Now he's happy to settle as the number one.
"I put a lot of time and effort into my training, it made it all worth while.
"Coming from the Gold Coast I moved home heading into winter so I had to wake up minus five degrees."
 – Stuff