She hasn't returned to the BMX track yet, but Sarah Walker's prospects of making the Rio Olympics are back on course.
The 2012 silver medalist suffered a double fracture of her arm after a fall during a training session in Cambridge last month, but a quick recovery has put Walker back on schedule to compete for an Olympic spot at full-strength.
Speaking to Radio Sport's Charlie Bristow, Walker is positive her Olympic hopes are back on track.
"I had surgery on Saturday last weekend and I got out of hospital and basically started making a plan on what the path to Rio now looks like after my setback.
"There wasn't a lot of adjustments which is really cool, everything is still on track pretty much," said Walker.
Walker has had a huge injury toll over the last four years, with the 27 year-old having now suffered 11 fractures to her arms in four separate incidents.
The most recent incident wasn't devastating though for the up-beat personality, who tackled the comeback with a positive approach.
"I've got five or six weeks off letting the bone heal – Two new plates and 15 more screws in my arms – I'll be a little bit more stressful going through airports now but its going really well, I'm back in the gym training and doing bodyweight stuff and my legs."
"We'll keep pushing it a little bit more each week but obviously making sure the priority is the recovery of my arm and making sure I'm doing everything I can to make that healed as quickly as possible," she said.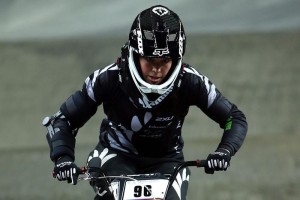 Initially, Walker wasn't sure whether the injury would be long-term or just a few weeks, but with "everyone surprised at how fast it's healing", she is set for a return in time for Olympic qualifying.
Walker will be missing the season-opening World Cup event in Argentina and is unlikely to be back for the following Manchester event, but still has plenty of opportunities to compete for a Rio berth.
"There's still a World Cup in Holland and then also World Champs in Colombia that I will be ready for so we're just gearing towards that now.
"It's not really changed Olympic qualifying too much – it's not ideal but it hasn't blown everything out of the water."
Walker will have to compete strongly in Colombia to make the Olympics, but that is a situation she has experience dealing with.
"It comes down to my performance at the World Champs and that's fine – I qualified for the London Olympics at the World Champs so I've been in that situation before.
"It's a little bit more stressful but its great practice."
NZ Herald
When wheelie Wednesday went weally wong! 😂😅 #wheeliewednesday pic.twitter.com/RlsWpJT2ND

— Sarah Walker (@swbmx) February 24, 2016