Returning to Wellington from the 2015 National champs in Christchurch there was no time for resting. I began my Worlds prep just days after returning. I spent 12 weeks working hard both on the bike and in the classroom. I needed to get as much school work done, so that I could train after schools and not need to worry about the 2 weeks of school I was going to miss whilst on my journey.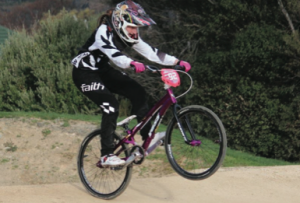 About 3 weeks into my training we had our Hut Valley Club prize giving. I was hugely overwhelmed by the support from all club members and to be awarded Hutt Valley Thunderbolts sportsperson of the year for contribution to the club and outstanding riding.
I can't thank Bob and all the club members enough for all their support.
My trip began with 3 flights coming to a total of 25 hours flying by myself, I stopped off in Melbourne, Dubai and finally landed in Brussels, Belgium. From here I was picked up by a few kiwi riders (2 from Wellington) and taken to our accommodation. We built up my bike and within a few hours of landing I was out on a track riding! This was the first time I had stepped out on the bike on the track in 12 days; after a serious ankle injury, which almost cost me my trip and chasing my dream. I had just 11 days to get back everything I had trained for. 12 weeks of continuous morning and evening trainings, to not being able to walk, in a moon boot and out of action. I was determined. Over the very challenging 12 days I spent almost 11 hours at the physio.
I got the opportunity to ride tracks in three different countries within 2 hours of where we were staying in Belgium! Crossing the Border into Holland and getting to ride 2 different BMX tracks; to crossing just over the Germany Border to ride at a track in Venlo, and of course the most important track the 2015 BMX World Championships track in Huesden, Zolder–Belgium.
I competed hard against the toughest females in the world and narrowly missed out on making the quarter finals.
To top off my adventure, I finished off my year strongly at school by being awarded the Upper Hutt College Chandler Family cup for female sportsmanship and overall sport contribution, with my main achievements from BMX being recognised.
I then went on to win the 2015 college Sport Wellington sportsperson of the year in the sport of cycling and finished off the year by winning Upper Hutt College sports person of the year.
I have had a very full on year completing my final year at college and NCEA level 3. Amongst all of this I have travelled around the country racing and have been a part of 4 different sporting teams within school (dragon boating, softball, netball and football).
I would like to thank mum and dad for allowing me to participate in so many activities and supporting me throughout my very hectic, but successful year.
Caitlin Georgantas