Well what a year it's been! Racing nationally and internationally, training multiple
hours per week, continuing on the path of achieving a degree with university on the road, traveling to 13 different countries and coaching /mentoring our sports next generation of talented BMX riders. It's been very busy to say the least but I have enjoyed every minute of it!

This years racing has definitely added a lot of scars to the body and I didn't break the trend in my first two races of the year in Melbourne and Queensland going down multiple times in the years first 2 races. From there the National Championships rolled around in Christchurch over Easter, surprising myself and not falling off all weekend finishing the weekend winning both the elite men title and the Superclass title.
I then went on to compete in the World Cup season, which as the trend went crashing
in practice before racing in Manchester, Rockhill and also crashing in racing in Sweden. Between World cup races I based myself in Switzerland where my sponsor Royalty BMX Bikes put me up to stay and I trained at the UCI World Cycling Centre in Switzerland where new limits were reached and the group became my second family.
In this time I raced within Europe taking away some UCI wins in Switzerland and in Italy. From there I went on to race and crash in Sweden, headed to California for a small block of training before heading to Argentina bowing out in quarter finals by a mater of inches on the line ending my day there. I then went on to Rockhill USA to get ready for the final round of the World cup season where once again I crashed in practice breaking my hand in the wet windy conditions. Managing to get up and handle the pain I went on to qualify for racing on day 2 but really struggled to get around due to the pain.
Coaching has been enjoyable, exciting and very very busy to say the least. Regular coaching clinics around the country with Elite Woman National Champ Victoria Hill, weekly coaching in the Waikato and programming for my Elite program I have set up, has meant coaching hasn't stopped whilst overseas staying in contact with these guys through thick and thin.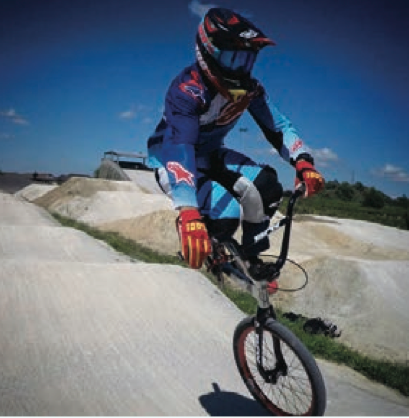 With BMX coaching I see the need to place a large emphasis on skills and skills under pressure, as this is how the sport is characterised which builds the platform as riders become mature and at international levels.
As I was not selected for the World Championship Elite team I was lucky enough to be able to head to Belgium and coach the junior elite team and be on the other side of the fence for the first time in a very long time watching racing. Its funny the feelings you get when your not competing and coaching. I never get nervous as rider but when it's all out of your control and in their hands my nerves skyrocket through the roof. Coaching is something I am passionate about just as much as ridding myself so seeing these guys succeed and fail is as exciting to experience for me as it is for them.
Where to next? I am currently typing this in a cast due to my hand not being completely healed from crashing in Rock hill but is due to come out within 10 days. Summer phase training has commenced and the plan until March is to tick all the boxes, cross all the t's and address all the weaknesses and learning's from this seasons racing. In this time before kicking off into the World cup season I will be competing at the National championships in January, Oceania Champs in January and racing the world selection races within New Zealand.
University will also continue along with my coaching which is completely full up until June next year when I return back to New Zealand. Lastly I want to thank all the people in my corner who has supported me on this journey:
Royalty BMX Bikes, Cycling New Zealand, BOX Components, Ride 100% Goggles, Taranaki Elite Athlete Foundation, Gatorade New Zealand, Massey University and all the staff and people involved behind the scenes.
Peace out 2015, time to tackle 2016 head on!
Matt Cameron
Professional BMX Athlete
M: (+64) 027 699 9484
www.facebook.com/mattcameron949
www.mattcameron949.com
Twitter – @mattcameron949
instagram.com/#mattcameron949
Sponsors:
www.cyclingnewzealand.nz
www.royaltybmxbikes.com
www.boxcomponents.com