BMX rider Sarah Walker's Rio Olympics hopes have received a major setback after she suffered a double fracture of an arm during practice.
Walker, who won silver at the 2012 London Games, fell during a technical training session in Cambridge on Wednesday.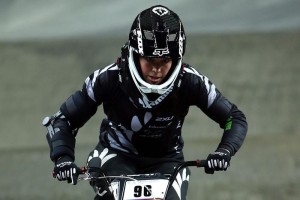 The 27-year-old was taken to Waikato Hospital for treatment.
High performance director Mark Elliott says Cycling New Zealand will await further medical advice before looking at Walker's path to recovery and to Rio.
"It's a real blow for Sarah who has been in outstanding form in training," he said.
"We will know more in the coming weeks and will continue working with Sarah on her plans going forward."
Walker was preparing for the early season UCI Supercross World Cup competitions in Argentina in March and Manchester in May.
"It's likely that she will need to re-focus towards the world championships in May as her gateway to Rio," Elliott said.
Walker spent much of last year out of action as she recovered from a fractured wrist and serious concussion after a crash in California in late 2014.
She returned in the middle of last year to win a bronze medal in the time trial at the world championships.
In January, she won the Oceania title, beating world No.4 Australian Caroline Buchanan.
NZN