More than one hundred BMX riders sped their way around the Lime Street track at the Southland BMX Championships and Mainland South Region Championships at the weekend, the most to attend event in a long time.
The event attracted 117 riders from throughout the country, with Southland BMX Club President Ginge Burnett pleased with the entries.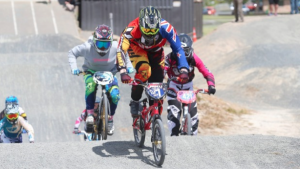 "It was the biggest numbers we have had at a Southland Championships for a very long time." he said.
"We had riders from the North Island and a few from Canterbury.  It was really well supported."
Riders were placed into categories based on age.
Most of the riders involved were juniors, although the event catered for participants aged from five to 60-years-old.
"The majority of the racers are kids aged from 8-14, they pretty much have a race for each age," he said.
The weekend was split into two events, with the Southland Championships on the Saturday and the Mainland South Region Championships on the Sunday.
Out of town riders dominated most of the races at the Mainland South Region Championship, but Southland's Shakira Mirfin won the 13-14 year old girls' event and Connor Douglas claimed the 12-13 year old boys' events.
Mirfin finished with an impressive six points, to beat fellow Southland rider Ruby Laidlaw on nine and Bella Wadsworth claiming third on 15.
Douglas also won his event with six points, ahead of local rider Ben Burnett on 10 and Josh Taylor with 16.
Southland's best riders will attend the South Island Championships in January, in Rangiora with the National Championships to be held in Pukekohe at Easter.
"There will be 20 odd Southland riders at the South Islands and 10 to 12 at the nationals," Burnett said.
"Ruby Laidlaw and Sharkira Mirfin usually ride in different age categories and they have national number one rankings, so they go good."