Upper Hutt couple Stephen (40+ male 20-inch) and Jo Coombes (40+ female cruiser) won their classes at the North Island BMX Championships in Taupo over Labour week-end.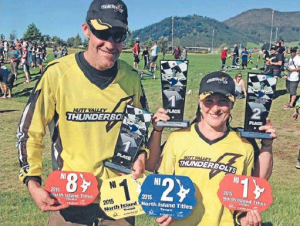 Jo then backed up that result by coming second on her 20-inch bike as well.
There were more than 750 riders competing at the three day event at Taupo BMX Club and the Hutt Valley Thunderbolts took up a team of 40, including Stephen and Jo's three children. Their youngest Jamie, 5, came ninth in only her second major New Zealand event.
The oldest HVT member competing was Upper Hutt's Colin Surrey, who finish 6th in the 50+ class.
The club hosts racing every fine Sunday at McLoad Park from 1pm.
Hutt Valley Thunderbolts Results:
Kerah Leaf-Morrell, 8th in 5 and under mixed; Sennia Hare 5th in 7 girls; Chay Laurence 5th in 16 girls; Caitlin Georgantas, 5th in 17-24 female 20 inch; Jo Coombes 2nd, Asher Boardman 5th and Andrea Jennings 6th in 30 + female 20 inch. Men: Dave Waistell 7th, 30-39 Male 20 inch; Stephen Coombes 1st 40 + Male 20 inch; Caitlin Georgantas 4th, 13-24 Female Cruiser/24inch class; Jo Coombes 1st and Mel Burgess 5th, 40 + Female Cruiser, Stephen Coombes 8th 40-44 Male Cruiser; Colin Surrey 6th and Paul Burling 7th, 50 + Male Cruiser.
Upper Hutt Leader
11 November 2015