Lewis Atkinson from Pakuranga's Mountain Raiders BMX Club dominated in the biggest group of BMX racers to become the North Island champion at the BMX New Zealand North Island Titles in Taupo over Labour weekend.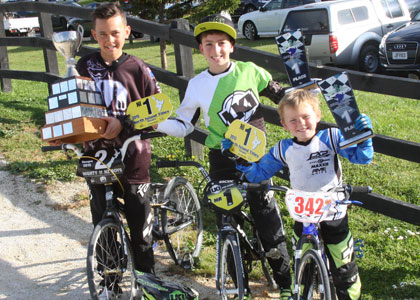 The nine-year-old now holds all three major New Zealand titles, including the New Zealand title and the South Island title as well as being the national series champion for his age group.
Also holding a New Zealand number one title, five-year-old Oscar Newnham, came away with the North Island title for his age group.
The Mountain Raiders BMX Club, located in Lloyd Elsmore Park, had 37 riders among a total of 700 other entries in the BMX event that was live streamed for the first time on the internet to viewers all over the world.
AMP ambassador, nine-year-old Sacha Earnest, who currently holds the national BMX title and world's second place title, took out second place at the North Island Titles in the 9 Girls age group.
Riding for the very first time on the Mighty 11s team, James Whyte, who currently holds the New Zealand title for his age group, helped the team take first place and retain the Mighty 11s Cup.
The following Mountain Raiders riders made the Top 8 finals:
Rocky Wilson North Island 4, 9 Boys
Jake Earnest 4, 10 Boys
Selina Pfister 7, 14 Girls
Cameron Jago 5, 15 Boys
Austin Sue 7, 15 Boys
James Whyte 5, Mighty 11 Class
Ethan Keen 7, 11-12 Cruiser Male
Jason Littlefield 8, 17-29 Male 20
Austin Sue 7, 15-29 Cruiser Male
Tim Atkinson 7, 35-39 Cruiser Male
Bryan Elliot 5, 50+ Cruiser Male