Sarah Walker quips that her biggest goal about this week's world BMX championships is to "stay on my bike".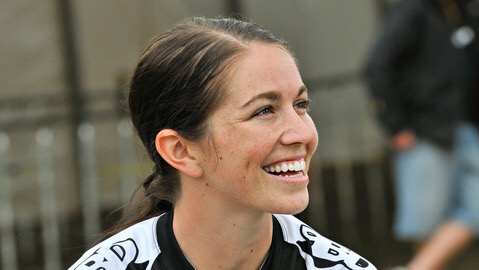 With anyone else it might sound trite. But Walker is back racing after nine months sidelined as she recovered from a nasty crash in California late last year which left her with six broken bones in an arm, knee problems and a lengthy and troubling concussion issue.
The Rio Olympics next year appeared a far off blip on her horizon, but the 27-year-old has worked her socks off and is relishing the chance to test herself at the highest level in Belgium.
"I couldn't have done much more in training than I have," she said today.
"I haven't raced these girls since last year so I've no idea where I'm at compared to them. I just know I'm riding as good as I've ever ridden really around the rest of the track; it's just whether I can get a start."
That's one reason the London Olympic silver medallist is reluctant to put a specific placing down as a satisfactory outcome this week. She simply doesn't know how she's tracking compared to her rivals.
"All I can do is control what I'm doing, get a good start, go as hard as I can and be as smooth as I can.
"I'm excited to race, it's been ages and after dusting off the cobwebs in Canada it's good to be here."
Walker admits to finding it "kind of weird" that she's in a good head space, considering her time away from the sport.
Her body is "as good as it's ever going to get. At the end of the day I can hold my bars, I can ride and do the things I need to to perform at my best."
The layout at the Heusden-Zolder complex for the worlds has technical aspects to it in the second half but a long first straight, which national coach Ryan Hollows believes will suit Walker.
She's ridden the track three times and likes the setup.
"I'm hugely impressed with the work she's done and how far she's come," Hollows said.
"She's still not close to where she will be next year as the lead-in to Rio but I'm hoping she can post a respectable race to kick start the Olympic qualifying period.
"And if things go well she can be on the podium."
Racing starts for Walker with time trials on Friday, which are part of the qualifying process but which also has medals on offer.