Cambridge youngster Leila Walker has matched her illustrious fellow BMX star Sarah Walker after winning her third straight World Championship title in Belgium today.
Walker, 10, has taken out her age group final in the UCI World Championships at Zolder in Belgium in emphatic fashion to gain her third World No 1 Plate after wins at Auckland in 2013 and Rotterdam last year.
She was joined on top of the podium by Hamilton's Jessie Smith who won the final in the 14 years girls.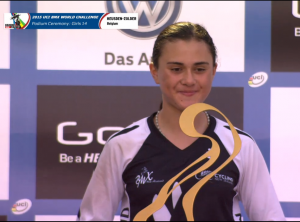 Smith, who rides for Sarah Walker, struggled to come through the quarter and semi finals before nailing her start in the final to win comfortably from fellow Hamilton clubmate Kaly Harcourt.
The pair led the New Zealand team in the 14 years and under classes, recording six medals with 11 riders reaching grand finals.
Auckland's Sacha Earnest (Mountain Raiders), also chasing a third straight victory, finished second in the nine years final, finishing with a flat tyre.
The Stevens-McNab family from Rotorua were on the podium with Wyatt and Lachlan both second in the nine years and 11 years divisions respectively.
Cambridge rider Lily Greenough and Megan Williams (Rotorua) were close, both finishing fourth in the eight years and 11 year categories respectively.
The other Kiwis in a final today were Bennett Greenough (Cambridge), who was fifth in the 12 years age group; Sam Cannon (East City, Auckland) sixth in the eight years division and Southland's Ruby Laidlaw who was seventh in the 12 years final.
There were some hard luck stories with Hamilton's Cailen Calken having to navigate through downed riders in his semifinal to miss out on a spot in the final and Waitakere's Rico Bearman who was caught up in a crash with downed riders. Both riders were defending world champions in their age groups.
Tomorrow is the Challenge classes for 15 years and over with the Cruiser classes on Thursday. The elite riders compete in time trials on Friday and elimination racing to the grand finals on Sunday.
cyclingnewzealand.nz