" I want to ride my bicycle , I want to ride my bike
I want to ride my bicycle , I want to ride it where I like"
Freddy Mercury
Kahutara School is a rural school with a roll of 115 children that has been educating farming families in the South Wairarapa since 1898. We have had a BMX track for over 10 years that is enjoyed daily by the children.
BMX track redevelopment:

Recently our school had to clear 20 Macrocarpa trees located within our much loved BMX track effectively destroying it. This gave us the opportunity to rebuild a more exciting track for the children.
Fortunately, we have a group of dedicated "fathers" with the knowledge, machinery and dirt to rebuild the track.
To date, this team have cleared the trees and constructed the "dirt" skeleton of the track entirely from donated materials, machinery and labour creating a 300m long track with 4 banked corners and 22 undulations.
What we lack is limestone to cover the track and create a smooth and durable surface that is weather proof. The limestone and its' transport are our major cost.
Kahutara School needs your help to get funding to purchase the much needed lime for their BMX track.  You can help by visiting this link and voting for them.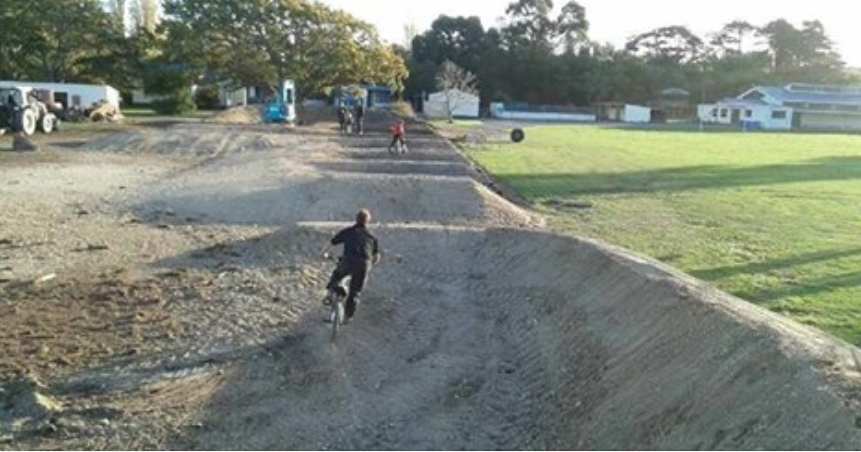 BMX track and the wider community:

Finally, although Kahutara School is the location of this track, it will be accessible for anyone in the Wairarapa to ride for leisure.
BMX was once very popular in the Wairarapa with Masterton hosting the BMX nationals in the 1980s.
Sadly, today, there is no longer a BMX club or track in this region, however, there remains a great deal of interest in cycling including BMX, mountain biking and road cycling and this track will be of great use to all those who cycle to develop their skills.
Thank you.
Lynette Cherry
http://www.yourcommunity.co.nz/entry/9164551
Shane Hislop and Lynette Cherry are family members of the HVT BMX Club who live in Waiarapa and have been instrumental in establishing a 300m, 4 bermed, 22 jump, 8m wide BMX riding track at the Kahutara School.
The track has been built so far solely by volunteer effort of labour and donated equipment to the point where track construction is near completion but the purchase of lime is required to get the track ready to ride.
An entry has been made to win $5000 from the Stafix "Powering Your Community" farming radio show competition (for rural communities) to help with purchase of lime for the track.
The Hislop family are typical in our sport with two children racing and Dad – Shane, having a go also. Lynette volunteered for staging duties at the 2015 BMX NZ Nationals and has on a number of occasions assisted at race meetings around the country to provide higher level medical advice for riders and on occasion spectators requiring assessment when first aid providers were at capacity or had to leave the track with injured riders.