Olympic silver medallist Sarah Walker makes her long awaited return to competition at the BMX National Championships in Christchurch this weekend.
Walker has been recovering from serious injuries after a crash in the final round of the UCI Supercross World Cup in California in September last year.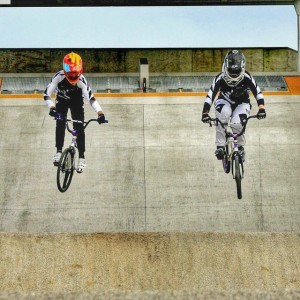 She is among approximately 1000 race entries from riders aged from four years to over 70 years in the championships at the Christchurch City club from Friday until Sunday.
Walker will be joined by fellow Cycling New Zealand High Performance riders Daniel Franks, Kurt Pickard, Matt Cameron and Hannah Sarten.
There are six age group world champions who will sport the W1 Plates in competition over Easter.
The championship will be a shakedown for Franks, Cameron and Pickard before they fly out to compete in the opening round of the UCI Supercross World Cup in Manchester.
"It's an important time for our elite riders and a great chance for them to compete at home at the national championships," said head coach Ryan Hollows. "It is a fantastic event and I know the riders really wanted to compete."
Tauranga's Cody Stevens will defend his men's elite title in a strong field where fellow Tauranga rider Pickard will be a favourite along with Cameron and Franks, who is back competing in his home city. Also watch for North Harbour's Michael Bias and Gisborne's Nick Fox who have both performed strongly on the international scene.
Pickard and Cameron fly out from Christchurch to Manchester after racing on Friday while Franks will compete on Saturday.
Walker will be keen to come through three days of racing unscathed, and has bounced back well with some strong form in training since her return to the bike in the New Year.
She will bypass the opening two world cup stops in Manchester and Papendal, aiming at a return to international racing in Canada in June.
She and Sarten will be hot favourites along with defending champion Victoria Hill (New Plymouth) and North Canterbury's Tahlia Hansen.

There are some impressive age group competitors including Auckland's Adam Coker, who is chasing his third straight world title in 25-29 years this year; Auckland's Cailen Calkin, 15, a 2013 and 2014 world champion; three-time and current world champion Rico Bearman; 10-year-old Leila Walker (Auckland), another double world champion, and nine year old Sacha Earnest (Auckland) who won world titles for seven and eight years.
Also competing is the impressive Waikato-based Ryan Martin, who is a current world champion representing Great Britain.
BMX is very much a family sport with the likes of the Sargison family from Taupo with both parents and two children competing in Christchurch; the Coombes family from Hutt Valley with mother, father and three children all racing and Jason Troup racing with his three children. They are from the Hawkes Bay where he is a driving force behind a new BMX track in the region.
The elite national titles will be decided on Friday along with the Cruiser Class and the Mighty 11s Test team trial, the nationals for 11 years and under and the Superclass Elite racing on Saturday with New Zealand titles for 12 years and over and championship selection races on Sunday.