Taranaki rider Matt Cameron blitzed the field while Sarah Walker was injured in a crash on the opening day of the final UCI BMX Supercross World Cup in California.
Cameron, enjoying the big jumps and open outdoor track at the US Olympic centre in Chula Vista, won all three qualifying motos in impressive form.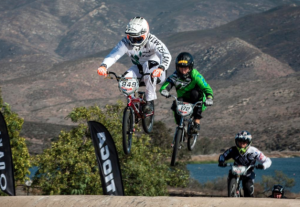 However a momentary lapse in concentration has been costly for Sarah Walker, who crashed while leading her opening moto and required hospital treatment for her injuries.
BikeNZ's leading men, Trent Jones and Marc Willers were both exempt from today's qualifying rounds, ranked inside the world's top 16 riders who progress automatically to the elimination rounds tomorrow.
Cameron, showing the benefits of training in California over the last 18 months with Willers, clearly enjoyed the qualifying action, grabbing the holeshot in each of his three motos on the way to impressive wins in each.He was joint top qualifier along with world champion Sam Willoughby (AUS) for tomorrow's race day.
Joining him is Gisborne's US-based Nic Fox, who had two second placings and a win in his final moto to qualify 14th through to tomorrow. However Tauranga's Cody Stevens missed out after a third and two fifth placings.
There was genuine confidence with the training form from Walker in the lead-up to this weekend's racing, with the New Zealand high performance team based at the new Rock Hill facility in North Carolina, venue for next year's world championship.
Walker enjoyed a good snap out of the gate in her first moto and was leading until she mis-judged one of the final elements on the rhythm section on the third straight, and fell heavily. She was taken to hospital for suspected concussion and a possible fracture of the wrist.
Coach Ryan Hollows said the squad is disappointed for Walker, who had been enjoying her first injury-free build-up since the London Olympics, but now faces some time on the sidelines in recovery before next year's important qualifying for the Rio Olympics begins.
Fellow BikeNZ rider Hannah Sarten missed out qualifying by just one point after three sixth placings in the motos.
American star Connor Fields and Olympic champion Mariana Pajon took out the super time trial honours among the exempt riders, while Kiwis Willers and Jones were content with a risk-free attitude to the time trial to focus on tomorrow's racing.
There are three further motos for all qualified riders tomorrow, with half the field progressing to the quarter finals for men and semifinals for women.
VOXY.CO.NZ