Leading up to our trip, we had two training sessions in Hamilton. Sessions went well with all riders understanding & responding to Clive's training regime. Clive also invited Paul Luttrell & Matt Cameron to assist with training (thanks guys!). The Hamilton Club were very accommodating. We had a team/parents/siblings BBQ at the track on May 17th which was a great opportunity for us all to get to know each other. Tasman & Shakira flew up from Nelson & Invercargill respectively for both training sessions & Jack flew up from Christchurch for the second session (following recuperation from the removal of his appendix).
Team Selected Nationals 2014 (in order 1-4)
Boys 
Tasman Wakelin
Jack Keown
Guy Johnston
Austin Lupton
Girls
Shakira Mirfin
Tia Hastings-Thurgood
Mia Tuigamala
Niamh Masson
After a great flight over on Friday May 30th, the team assembled bikes and had a light ride round the Macarthur track. A busy track, with 5 tar sealed berms and 6 straights. They immediately started to try out their skills with plenty of air happening. The Mightys then settled in with their billet families. Saturday afternoon saw Tasman, Jack, Guy, Austin, Shakira, Tia, Mia and Niamh race MacArthur's club day with 204 other riders of varying ages. They rode in the 13-15 mixed division and had a great time. Guy dominated his races, he was on fire! Sunday headed to Liverpool for their club day where 75 riders raced 6 races.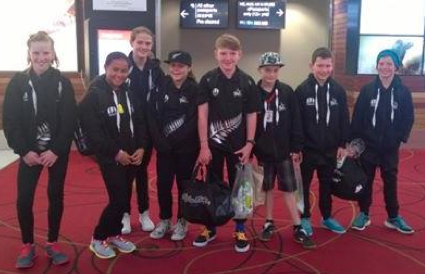 Monday was a day off the bikes. The team caught the train into the Sydney for the day. Checked out the Opera House and surrounding area and even tried to play a didgeridoo! Girls had a wee look at the shops and boys found a couple of bike shops to look around then walked to Darling Harbour. Our time in the city went really quickly.
Full on training at Macarthur commenced Tuesday morning and every morning following until lunchtime with the team having gelled together nicely. Activities kept the afternoons busy including visiting the Featherdale Wildlife Park. This was an awesome experience with the team able to have photos with koalas, kangaroos & wallabies & could get close to view the many other animals/birds etc in the park. We went Go Kart racing, bounced our way round Flip Out (a large trampoline arena). This was an awesome activity & my favourite! We also went to laser skirmisk (laser strike). The weather cut our practice session short Thursday but gave the team plenty of time exercising their vocal chords, singing the National Anthem and practicing the Haka. Showers predicted for our last training session Friday came to fruition & we were very fortunate to get a partial session in. Following training, we ventured to Burragorang Valley & enjoyed a team BBQ lunch then had our team photos taken.
The Test Team Dinner was held Friday night 6th June at Ingleburn RSL just prior to race day. MC for the night was Luke Madill – very exciting! Our team captains, Tasman & Shakira read out their fantastic speeches, supported by their team members – a very proud moment for us all. The riders received their test team race shirts, number plates and exchanged gifts with their opponents.
NZ was well represented with an additional 14 riders participating in the Pre State Titles, only 2 being Mighty's siblings. It was an excellent opportunity for additional racing building up for World Champs.
Race day…. Saturday, the weather turned it on, felt like summer. The teams raced two tests and four Mighty 11 class motos. Test points after day 1 – Girls -Australia 41, New Zealand 37, Boys – Australia 51 New Zealand 27. The Mighty 11 class had 2 Kiwi's in the top 3 with Bennett Greenough sitting in second place and Shakira Mirfin in third. The team headed back to their billets for a good night's sleep ready for some great racing Sunday.
Race day 2….
Having raced 3 more tests and two Mighty class
motos the overall results were:
Mighty 11 Boys
NZ 65  Aus 130
Mighty 11 Girls
NZ 88  Aus 107
Mighty 11 Class – NZ Riders Final
2nd Tasman Wakelin
3rd Bennett Greenough
Semis
Guy Johnston
Shakira Mirfin
Tia Hastings-Thurgood
Austin Lupton
Top Mighty 11 Girl – Shakira Mirfin
Our 4 girls all brought home trophies for the top 4 girls
results in the Mighty 11 Class.
The Aussie boys team was keen for revenge after their thrashing last year & were too strong for our boys. Race results were mixed but this time we were out classed. After Saturday's racing the girls' points were close. Shakira had a crash in the first test on Sunday (she broke her neckbrace) but bounced back however the Aussie girls gained some valuable points and retained the trophy.
We spent 10 nights at Macarthur. All families were great hosting families and we were all very well looked after. We will always remember our time there.
Clive and I were very proud of how the team conducted themselves together with the positive approach from parents and siblings. We were very spoilt with the assistance the parents provided us with shopping for food, food preparation & bike mechanics. As always Elaine did a great job organising the airline tickets. Our arrangements, check in, flights etc went without a hitch.
We look forward to the next trials in September and to our next Test Team Challenge where we plan to instigate our revenge!
Sharon Cheesman
Mighty 11 Test Team Manager