My world's campaign kicked off a little earlier than some, setting off from New Zealand ten days before competition was due to start. Previous experience has taught me that I generally don't travel too well when going that far. I struggle to sleep on a plane, and jet lag has hit me pretty hard in the past. Arriving over a week before official practice started, and heading straight to Rotterdam, gave me plenty of time to get over the jet lag and get comfortable with my new surroundings.
It wasn't all plain sailing though. While I made it to the Netherlands without any problems, one of my bags didn't, and had only made it as far as Melbourne! It somehow took the airline another five days to get it to me. Fortunately I was able to get by without it, without too many problems. The biggest annoyance being no tools and a few missing parts to get the bikes going. A huge thank you to the bmx24seven shop for helping get me sorted and up and running before my bag arrived.
The final part of my build-up basically just consisted of a few road rides to get the legs moving and riding a few tracks around the Netherlands and also next year's world's track down at Zolder in Belgium. Thanks must go to the Bearmans and Davies for sorting out the training sessions at a couple of those tracks.
Practice day rolled around, the track was looking good, and I was ready to go. It was much like last year's track in Vector Arena – not much pedalling before the first corner, tight, and short. It seemed to work out for me last year, so I wasn't complaining! We were grouped with all the South Americans and a few European countries for practice, which resulted in chaos to say the least. After 75 minutes I'd gotten a grand total of three laps round the track. Fortunately the track wasn't hugely technical and I was already feeling reasonably comfortable on it.
The second practice day was actually on the same day as all the racing for anyone 17 and over riding 20". I considered skipping the second practice session to save the legs for racing that evening, but in the end decided I would ride it. This time making sure I was at the front of the queue when the gates opened for our session, to try and get a few more laps than the previous day – I got four laps this time!
It was then back to the apartment to get some food into me and put the feet up for a few hours before heading back to the track for racing. I wasn't quite sure how to feel, there were a couple of things that were letting some doubt creep into my mind, but also a couple of things that I knew I had on my side. I just knew I had to block out any of the negatives, and focus on the positives and what I had to do.
It's always tough turning up at worlds and not really knowing all the competition, or where anyone else is at. So despite having the number '1' on the front of my bike as defending champion, I was still pretty anxious to just get on the gate and get the first race out of the way. Everything went to plan and I got that all important, nerve settling, win in the first moto. I managed to follow that up with two more wins in the second and third motos to put me in the best possible position heading into the quarters. This also gave me first pick of lane, which was crucial on such a short first straight which left anyone on the outside with a big task to get across to the inside before the first corner.
I got a bit of a fright in the quarter final with one of the Brazilians having a blinder down the first straight and getting the edge on me, luckily I was coming out of lane one and managed to sneak up the inside into the first corner. Being out front was definitely the place to be, especially in this race with half the field going down at the start of the second straight, taking out last year's runner up in the process. Certainly not the way you want to see the competition bow out, but an unfortunate reality of our sport I guess. Another win, and keeping that all important first pick of lane heading into the semis.
Semi final time and I managed to nail my gate and get the all-important holeshot. In the same race was fellow Kiwi, Jason Kelly, who was starting out a bit wider after being stitched up in his first moto and going down leaving him with a lower lane pick at the start of the knockout rounds, and having to work his way across towards the inside. I could hear someone right on my tail the whole lap, and after crossing the finish line and turning around to have a look, sure enough it was Jas right there, two kiwis in the final.
With the pressure of the knock out rounds now behind us, I just had to focus on doing what I had been doing all night for one more lap. The turnaround time from the semi to the final was pretty quick, but I was feeling good both physically and mentally, and was ready to get out there and do it again.
Locked and loaded in the gate for the final and it was all or nothing. The gate dropped and I got another great gate. I was bar to bar with the Frenchman who was in lane two, with Jas right next to him coming out of three. Again the inside lane was crucial and I managed to take the lead jumping into the first turn, with Jas jumping around the Frenchman to slot into second place. I knew from here if I rode a clean, mistake free lap, the title would be mine again, given the lack of passing opportunities on the short, tight track. I managed to do just that and take the win – back to back World Champ! Jas was right on my tail again and managed to hold off the rest of the pack to make it a NZ one-two – can't really get much better than that!
One advantage of being in the first session of racing was a day off between 20" and Cruiser. It was good to have the day to relax, go for a bit of a ride and familiarise myself with the Cruiser again.
It was an early start to Cruiser day with practice kicking off at 7.30 in the morning. I wasn't in too much of a hurry to join the stampede in the pits to get some practice, and when I did I definitely backed the wrong lane, waiting a good hour to get one lap! I wasn't worried, I was feeling OK and knew it would only get better as the day went on.
I was a little more relaxed heading into the motos with 20" now behind me, and obviously being in some pretty good form. I knew if I rode to my potential I would be in with a shot at the Cruiser title too. After coming so close to getting the double last year in Auckland, I was determined to do everything within my control to not let the same thing happen again as 12 months ago. I got off to a perfect start taking three wins in my motos to set myself up nicely for the knockout rounds.
Being in one of the smaller classes of the whole meeting meant it was straight into semi finals. After one of those long random gate pauses that everyone hates, I missed the gate a little bit but managed to recover enough to take the lead into the first corner. Another solid lap and it was finals time again.
After a long session and four more races in the legs I was starting to feel it a little, but knew I just had to hold it together for one more lap. Going through unbeaten meant first pick of lanes in the final and I of course went straight for the inside. A much better gate this time and I was there or thereabouts down the first straight. Once again the inside lane proved invaluable and I came out of the first corner in the lead with a clear track in front of me. A bit of a battle developed for second place, which gave me a bit of breathing space and meant I was able to run away with it, and take the win – job done!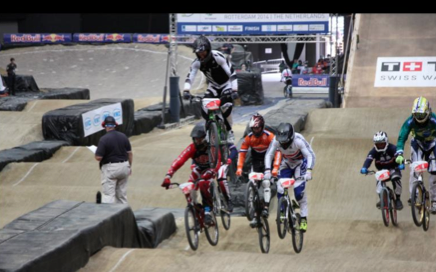 To say I was ecstatic to get the double is an understatement. But there was also a sense of relief in there as well. This had been the goal for the best part of the last 12 months and I wouldn't have been satisfied with anything less. So to pull it off in this sport of ours, which can be so unpredictable and cruel at times, was also extremely satisfying.
A huge thank you to all the NZ team management and staff out in the pits – you guys were amazing! And also to everyone who was in the crowd making plenty of noise. It's always nice to get a good cheer when your name gets called out on the gate! Finally, congratulations to all the other kiwi winners, finalists and competitors – just to travel that far and compete on the world stage in one of the toughest areas for our sport is no mean feat, and something to be proud of.