BMXNZ: Competition is underway for the challenge classes in Rotterdam, with 17 and over and masters racing now complete.
Sue Walker, the New Zealand Challenge Classes team manager, witnessed a great exhibition during the first show of racing at the UCI BMX World Championships.
Twelve New Zealand riders paved the way for the opening session, all finding the skills and competitive drive of the large European contingency tough work.
A clear standout was Adam Coker who won all of his races convincingly in the 25-29 year old division. Jason Kelly crashed in his first moto, but came through his qualifiers to finish second in the same division.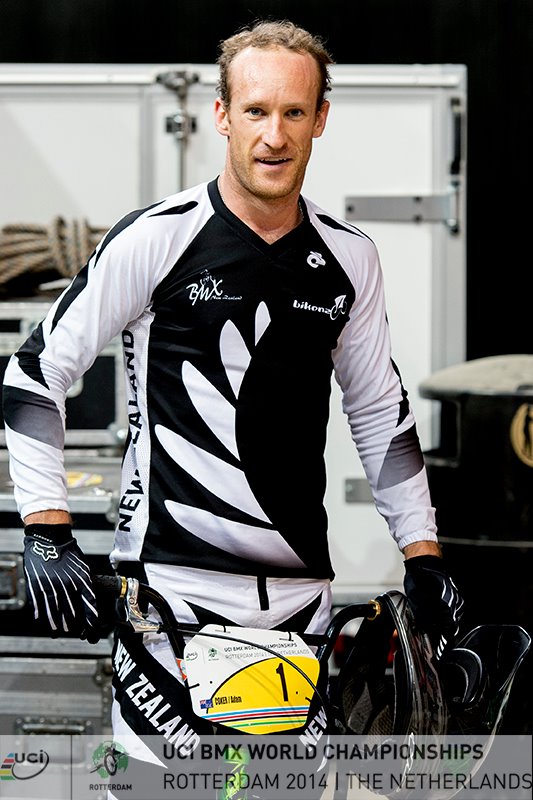 New Zealand riders gained strength and confidence through their eights, quarters and semi- finals, giving their best and showed their great Kiwi spirit.
Tomorrow will see challenge classes competition in the 5-11 and 12-16 year old divisions.
NZ Results – World Challenge 17 and over/World Championships Masters:
17-24 yrs
Kane Barry 5th in 1/4 final
Joshua Jordan 5 in 1/8 final
Avon Peel 6 in 1/8 final
25-29 yrs
Adam Coker 1st
Jason Kelly 2nd
Ben Simpson qualifiers
Karl Thurston qualifiers
30+
Scott Hazelwood 5th in 1/8 final
Andrew Jackson qualifiers
Mike Reader 7th in semi final
Jason Troupe qualifiers
Taylor Smith 8th in 1/4 final