The Kiwi BMX contingent will take on a tight indoor test at the world championships in Rotterdam at the weekend.
The team arrived into The Netherlands this week after a build-up at the UCI Headquarters in Aigle, Switzerland where they trained at the new facility.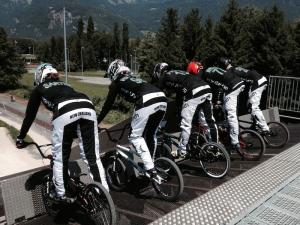 Coach Ryan Hollows said the team is well versed with tight indoor arenas following previous world championships in Birmingham in 2012 and Auckland last year.
"The track is what it is and we have prepared for it. With an eight metre ramp and a very short straight it is going to provide a challenge to get around that first corner without mishap," Hollows said.
"That said, Marc Willers showed what he can do with a track that was not to his initial liking with his second placing at Auckland last year.
"The key is going to be to get a great gate and we have trained very much with that in mind."
He said the team has enjoyed their time in the Swiss Alps.
"It has all gone well. We've had mostly good weather and the new track is very good. It was worth coming and it is a huge improvement than the old one.
"We have had some excellent time on the track and there's a gym right alongside."
They have shared the facility with the UCI BMX training group along with national squads from Colombia and Brazil.
Challenge racing begins today with the elites racing on Saturday and Sunday.
New Zealand qualified three riders in the elite men, one each in the elite and junior elite women and four for junior elite men.
The 2013 world championship silver medallist, Willers and in-form Kurt Pickard and promising Trent Jones form a strong trio.
"Kurt has been in outstanding form in the US in recent times, while Trent has been our best performer in World Cups. Added to that, Marc has been returning to that form we know, and if he gets it right, he is of the world's best out of the gate."
Hollows said Olympic silver medallist Sarah Walker is returning to her top form after virtually a year out with injury while he is expecting good things from 18-year-old Hannah Sarten, currently ranked sixth in the world.
Te Awamutu provides two riders in the elite junior ranks in Todd Barry and Codi Merito along with Caleb Martin from Christchurch and Liam Perry from Kapiti.
There are time trials for qualifying purposes and a super final on Saturday with elimination racing on Sunday.
There is an initial three races in groups of eight for the men, with 48 riders progressing to be joined by the 16 ranked riders in the men. The 64 then compete in the eighth finals on an elimination bases with four from each race moving on.
Twenty-four women will go through to join the protected eight to quarterfinal stage with single race elimination from that point.
The BikeNZ elite team is:
Men: Trent Jones (North Canterbury), Kurt Pickard (Tauranga), Marc Willers (Cambridge). Junior: Todd Barry (Te Awamutu), Caleb Martin (Christchurch), Codi Merito (Te Awamutu), Liam Perry (Kapiti).
Women: Sarah Walker (Cambridge). Junior: Hannah Sarten (Cambridge).