Kiwi teens using the Move60 app have clocked up over 40,000 kilometres in just over two months – the equivalent of cycling the circumference of the earth.
The app was launched at the end of March as part of the Move60 programme, spearheaded by brand Ambassador, BMX Olympian Sarah Walker. Designed to encourage teens to be active for 60 minutes a day, the app offers a platform for teens to ride their bikes safely and socially, and engage in some healthy and interactive competition as they clock up the kilometres. Sarah Walker stars in the app which features bike-centric games, challenges, competitions and rewards and is free for anyone to download.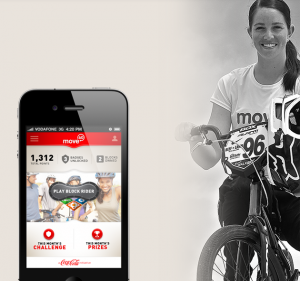 Move60, an initiative from Coca-Cola in partnership with BikeNZ and the Foundation for Youth Development (FYD), is one of four commitments Coca-Cola has made to help to address the issue of obesity in New Zealand.
Paul Fitzgerald, GM of Coca-Cola New Zealand says, "It's really exciting that users of the app have already reached such an impressive milestone after just over two months. It shows that there is real engagement, and that the app is getting our teens out there and moving."
As part of the Move60 programme over 350 bikes have been gifted to deserving teens at schools in Waikato, Christchurch and Wellington since the end of March.
Download the app today at www.move60.co.nz.