Gisborne BMX club members Tylah, Jude and Allan Halley, along with Hayden, Taylah, Shane and Sha Pragnell (Club Team Manager), headed to the South Island on the 3rd of January to attend the Mainland North BMX Region Champs from 5-7th January and the South Island Title Championships from 11-12th January.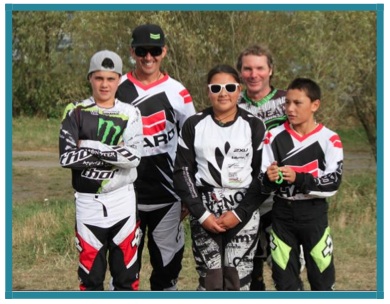 Gizzy Crew at South's – Tylah &, Bully Halley, Taylah Shane and Hayden Pragnell
Region Champs were held over three days at three different tracks; North Avon, Rangiora and Hornby. Day one at North Avon saw some great racing and riders were ready to go hard. Unfortunately our Jude Halley on day one crashed in her third race and suffered a bad fall, injuring her leg and hand. She decided that on days two and three she wouldn't ride as she wanted to recover and hope to race at the South Island Titles the following weekend.
Days two and three saw some awesome racing from the Gisborne members and they worked hard to get top placings. At the end of the Region Champs, members were ranked as follows; Tylah third 14yr Boys; Allan second 30+ yr Male 20"; Hayden third Group B 11yr Boys; Taylah second 13yr Girls and Shane 5th 30+ yr male 20".
Day one of the South Island Titles saw Jude Halley not riding, as she had not recovered as well as we hoped and unfortunately had to sit on the side line and watch. Gisborne riders were all riding well and giving their best to make it into the top rankings for the finals on day two. Taylah, who was carrying an injury from a crash on practice day, saw her come through with determination, riding well to hold her place.
Day two came and all riders rode their strongest and hardest to see who would go ahead into the finals. Hayden Pragnell, who rode well on day two, unfortunately did not have enough points to go into a final but was ranked 11th overall for 11yr Boys; dad Shane also missed out on a final and was also ranked 11th overall for 40+ Male 20".
Tylah, Allan and Taylah all made the finals and were all riding to get top three placings. Allan Halley raced hard all weekend. He had NZ Number 1 rider Dave Mohi to race against, and at the end of it all Allan raced hard and placed a well-deserved overall second for 40+ Male 20". His son Tylah also raced really well holding his place and ranking overall second for 14yr Boys. Taylah Pragnell fought hard to keep her place and ranked an overall second 13yr Girls.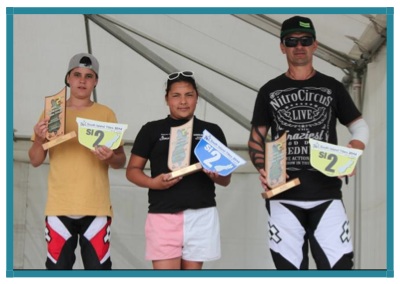 Tylah HALLEY, Taylah PRAGNELL and Bulli HALLEY all with their Souths Plates
Warren Boggis, Official of BMXNZ, said that 2014 South Island Titles attracted the most riders since he can remember with a total of 255 riders. Of those, 79 riders were from the North Island.