Sarah Walker has finished ninth in her first BMX World Cup Supercross of the all-important 2019 season in Manchester.
It proved a consistently strong start for Walker who is chasing selection for her third Olympics in Tokyo.
She had double reason to be pleased with Hamilton teenager Jessie Smith, who is mentored by Walker, making it to the quarterfinals in her first elite World Cup, finished 21st overall.
Walker, who showed good speed in qualifying, was consistently fast out of the gate throughout the competition, qualifying second in her moto, and then advancing to be third in her first round and fourth in the quarterfinal.
She jumped well from the outside gate in her semifinal and managed to manoeuvre around a crash that took out her Dutch TVE Sport teammate Merel Smulders. Walker was pushed wide on the turn by Denmark's Simone Christensen and while the Kiwi made ground she was pipped by half a second for the last spot to the final.
Christensen, a lawyer when not competing in BMX, went on to upset more fancied competitors to win the final from Dutch riders Judy Baaum and Marle van Bentham.
Smith qualified for the main competition with an excellent ride for third to move to the second round where she made the most of an excellent gate to again finish third with the top four in each race progressing to the next round. But she could not progress in her first elite quarterfinal, up against top qualifier Felecia Stancil, double Olympic champion Mariana Pajon and world number 3 Saya Sakakibara. However she will be nonetheless delighted with her first outing in elite company at the highest level.
Te Awamutu's Rebecca Petch showed her strength to come through the repechage to get to the second round but missed out by one spot in making the quarterfinal in the same heat as Smith progressed.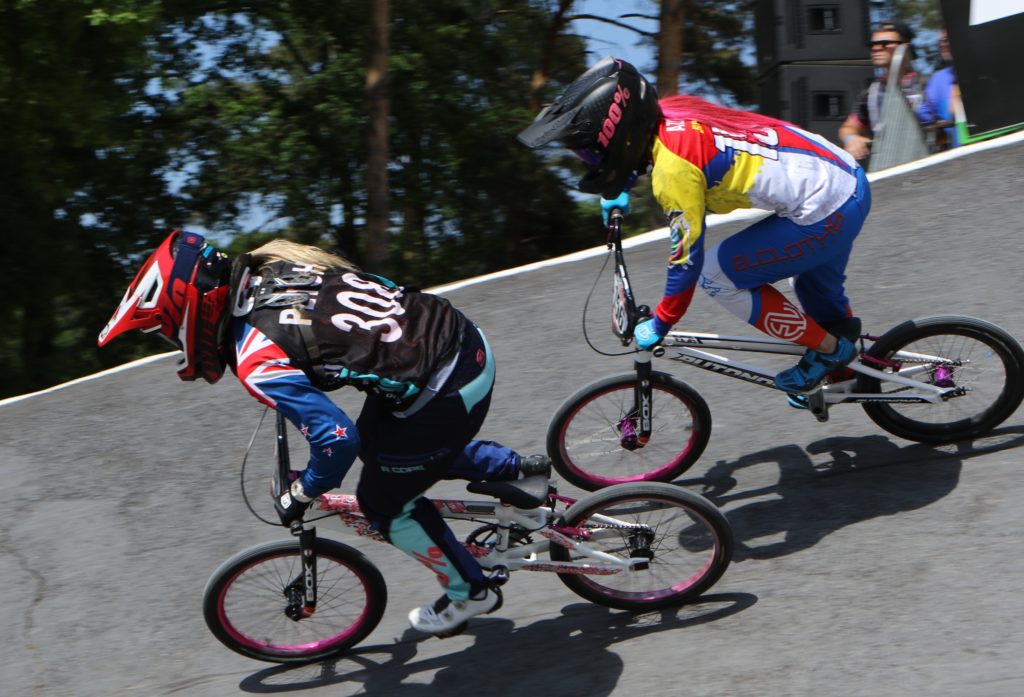 North Harbour rider Michael Bias enjoyed an encouraging competition in the elite men. After finishing sixth in his qualifier, Bias won his last chance repechage with a superb ride. He had another top effort out of the gate to finish second in the round of 16 in one of the fastest times in that round. He came up against a stacked heat in the round of eight including world champions Corben Sharrah and current top ranked Niek Kimmann, pipped by one place to progress to the quarterfinals.
The other two New Zealand riders, South Auckland's Maynard Peel from Sunset Coast club and Cole McOnie from Te Awamutu both missed out on qualifying in their moto and were fourth and third respectively in their last chance races with only the top two progressing.
The Kiwi riders will be back in action indoors at Manchester in the second round overnight (NZ time).
PHOTO: Jessie Smith (left) and Sarah Walker during practice at the UCI BMX World Championships last year. (Credit: Nico van Dartel).