Game changer or just a poor silly fad? Whatever you think, this invention from New Zealand's leading manufacturer of BMX will turn up the lap times as well as giving you a faster gate*.
Introducing the CXP TransLaunch
Newly appointed Cycle Express Head of Product Development, Polo Flairs said the product has been the result of months of late night testing.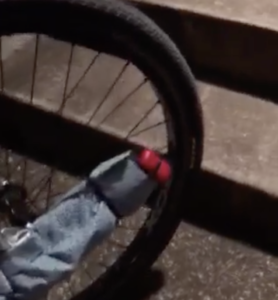 "Myself and Bruno have been developing this along with a few of NZ's elite Sprockets. To keep this under wraps and quiet, we have conducted tests on tracks without lights so that we could keep this a secret!"
BMX.NET.NZ asked Polo why this was such a secretive product.
"It is covered up because the patent is still pending. Also, we are still waiting for approval from the UCI and BMXNZ."
CXP Racing Director, Bruno Pfister weighed in and told us about how this will improve lap times and improve gates:
"This will make your gate time faster as it brings the transponder forward and on the push of a button, it extends it a further 120mm so can be real handy for those tight finishes."
Check out the sneak peak video here:
The CXP TransLaunch is expected to retail around NZD$350 and weighing in around 309gm. The unit itself is manufactured from titanium and also unabtanium with a lithium booster to ensure accutate deployment. There are of course other materials involved, however, due to trade secrets, we are unable to publish them here today.
"CXP TransLaunch will of course need a helping hand to get started, so we will launch through Kickstarter real soon", says Bruno
"Great thanks goes out to all our test riders who loved this unit."
If you want to know more, or be amongst the first in the world to own a CXP TransLaunch, please get in touch via this web page: CXP TransLauch Enquiry Form
*Faster gate times will depend on exact activation of the CXP TransLaunch