Sarah Walker has competed around the world at the highest level – but she took that to the extreme today with a historic ride around Auckland's iconic Sky Tower.
The 29-year-old Olympic silver medallist sped around the narrow metal walkway 192 metres above ground as part of celebrations for the 10th birthday of the AJ Hackett Bungy New Zealand's SkyWalk.
Walker completed five laps while a film crew captured the stunt from a circling helicopter and later joked that she managed to pull off a wheelie for one brief second.
"That was so scary but so cool," said Walker.
"I can't even describe it, it was so amazing.
"This actually felt like lining up on the start line of a World Championships.
"Everything's racing and you're ready to go and you're excited, you're scared – all of these emotions are going on and then you just go and do it."
Walker came up with the idea while completing the SkyWalk in the traditional sense, but despite her experience in pressure situations, she admitted to having her doubts both before and during her high-wire ride.
"Absolutely. Reading each of the emails preparing for today my heart rate increased each time just reading them," she said.
"I haven't done the Sky Jump but I've done the SkyWalk and that was when I wondered 'what would it be like to ride around' and then it happened.
"I thought it would get easier as I got used to it but every time [lap] it was scary and it almost got scarier as my brain started to figure out what I was actually doing.
"I looked around at the view before and after."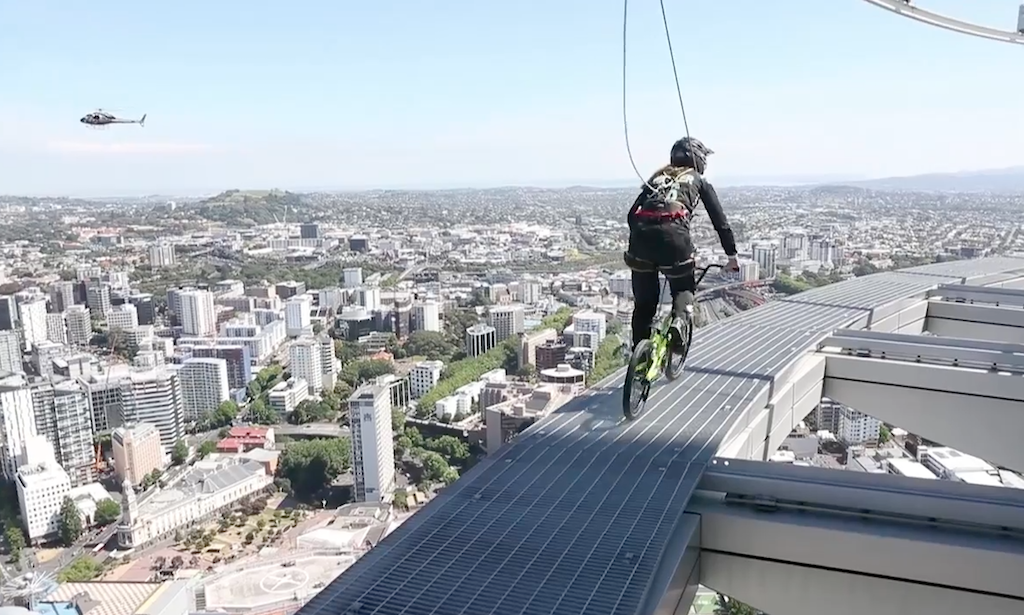 AJ Hackett Bungy NZ co-founder Henry van Asch was thrilled Walker was able to attend and said her adventurous streak was in tune with the company's ethos.
"Sarah's just a great example of Kiwi resilience and she's done a fantastic job in her sporting endeavours so we're really pleased to have her here today to do this," said van Asch.
"It was her idea to ride around it and she's obviously an adventurer herself and it was great for her to get up there and ride around and do a world first on a bike."
Having overcome a run of injuries in recent years, Walker finished eighth at the world BMX championships in July, and has her sights set on climbing back up the rankings and reaching new heights at the 2020 Tokyo Summer Olympics.
"I'm not sure I'll incorporate riding around the Sky Tower into my training programme but it was good to see what it was like.
"I'm going to work towards racing in the World Cup and World Champs next year and work towards Olympic qualifying for Tokyo."
– NZ Herald
– Stuff