Despite an injury-plagued few years and no racing for two months, Sarah Walker was the best of the Kiwi BMX riders, making her first final in three years at the UCI World Championships in USA today.
The 29 year old went into the championships with little expectation, and even survived a spectacular crash in a qualifying race, before working her way to the grand final.
While she had to be content with eighth in a talent-packed final, Walker believes her performances were such that instead of doubting her future in the sport, that she can plot a course to a possible fourth Olympics in Tokyo 2020.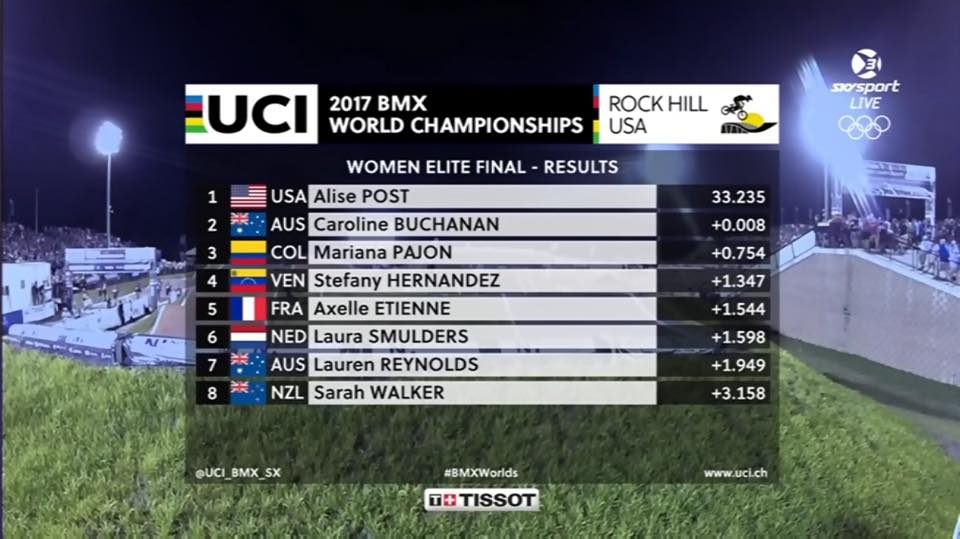 Six New Zealand riders made it out of the qualifying motos into the elimination rounds on the early evening finals at the stunning Rock Hill complex in South Carolina.
Gisborne's Nick Fox, who qualified second, and Rio Olympian Trent Jones, who won his group, both went out in the round of eight, unable to replicate their impressive form from the motos.
Amy Martin from Hawkes Bay went out in the quarterfinals of the junior elite competition, in her first time at this level.
National champion Rebecca Petch (Te Awamutu) impressed in her first elite world championships. She was second behind European champion Laura Smulders in her qualifying group and progressed through the quarterfinals before going out in the semifinals, which was excellent performance.
Defending junior elite champion Maynard Peel (Sunset Coast) won all of his qualifying motos, and finished a comfortable second in the quarterfinal. The 18 year old had a sluggish gate from a wide draw in the semifinal, but in working his way through the field to third, he brushed the rear type of a slowing competitor on the final turn and crashed.
This left Walker as the lone survivor after the day started anything but confidently. She was fifth in her first moto and fourth in the next two, just edging in to the elimination rounds by one point. It included a somersault crash, but this time Walker finished the race without any injuries.
---
Advertisement



---
The London Olympic silver medallist enjoyed an excellent gate from the outside in her quarterfinal to finish second to close friend Smulders.
The semifinal proved a tougher battle after she was squeezed on the outside, but Walker made a splendid move on the turn to gain three spots. She pushed into fourth spot and held off the challengers to make the finals.
Walker had a good gate in the final but ran out of real estate on the outside and was shuffled to the rear of the field, and had to be content for eighth.
The final was won by American Alise Post, a super-popular rider who grabbed her first world title. It was a poignant moment with the entire field riding out to congratulate her after she had hugged fiancée and former world champion Sam Willoughby, who was paralysed in a BMX crash last year.
Walker's last world championship final was 2014 and previous to that 2011 when she finished runner-up.
"I really honestly did not know if I was going to get out of the moto stage," Walker said. "My moto draw had three finalists in it and two others who had made World Cup finals.
"To make this final, I am really proud of myself. I still need to work on my first few pedal strokes out of the gate but my track speed was good.
"To be in the final, to get a good gate, have a good first straight, to come away in one piece – honestly this is a proud moment and a cool way for me to go through a world championships.
"I have to process this first. The field here was outstanding. There was no-one missing. This weekend was very promising and I think if I can nail the first few metres out of the start, then I really think I can be right there in terms of the Olympics."
The 2018 world championships will be in Baku, Azerbaijan.
Finals Results:
Junior Elite Women: Bethany Schriever (GBR) 34.478, 1; Saya Sakakibara (AUS) 34.595, 2; Vineta Petersone (LAT) 35.701, 3.Also: Amy Martin (NZL) 20.
Junior Elite Men: Cedric Butti (SUI) 35.041, 1; Kevin van de Groenendaal (NED) 35.253, 2; Mikus Strazdins (LAT) 35.695, 3. Also NZers: Maynard Peel 12, Ryan Jordan 51.
Elite Women: Alise Post (USA) 33.235, 1; Caroline Buchanan (AUS) 33.243, 2; Mariana Pajon (COL) 33.989, 3. Also: Sarah Walker (NZL) 36.393, 8; Rebecca Petch (NZL) 15.
Elite Men: Corben Sharrah (USA) 32.913, 1; Sylvain Andrew (FRA) 32.951, 2; Joris Daudet (FRA) 33.891, 3. Also NZers: Trent Jones 45, Nick Fox 58, Michael Bias 67, Cole McOnie 74.