Amy Martin, you could say, has had to grow up pretty quickly – so much so that she's 17 going on 25.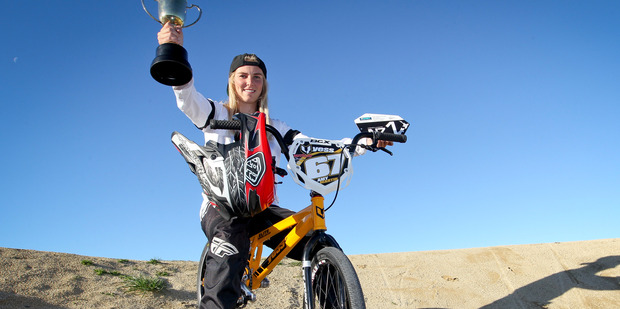 Out of Iona College only last year as a Year 12 pupil, Martin has had to break free from the cocoon of domestic bliss this year to come to grips with trying to forge a professional career as a BMX rider in the United States.
"I had to organise things for myself because my parents didn't come with me to try to find places for me to stay while I was there," says the teenager from Hastings who returned home early last month after going through the motions with other peers trying to carve a niche in the professional circuit.
For instance, the penny dropped when she struck a few mechanical complications with her bike because her father, Neil Martin, wasn't there to form a working bee she's got so accustomed to growing up.
"I didn't have my dad or anything there so I'd kind of go to a park to try to fix things for myself," she says of her father who was a scrap metal dealer at Whakatu but is now an employee there.
Martin, who became the junior elite women's champion in Te Awamutu during the Easter weekend, is off to Auckland this weekend in the hope of making the cut for the UCI BMX World Championship in Rock Hill, South Carolina, from July 25-31.
The latest acquisition comes on the foundation of becoming the 15 and 16-year-old girls' champion in 2014-15.
In 2016, she went under a surgeon's knife to fix her bunged left knee from an injury she picked up in 2013, which explains the hiatus from staying on the track of incremental gains in the national grid. She has exorcised her share of injury demons after taking up the sport at 10 and making three world champs.
Martin, for the record, is adept at tinkering with her machine, to the extent that she can dismantle it and put it together again.
While she didn't succumb to homesickness she definitely missed her mother's home cooking. Her mother, Jodie, recently started work at Royston Hospital in Hastings.
Stepping out of her comfort zone in Havelock North is something Martin has embraced with the bullishness of charging out of the starting gate but she prefers to treat impending life experiences as she would the serpentine, dirt race course made of various jumps and rollers with the finish line nowhere in sight yet.
"I just had to make sure I was safe all the time and trying not to get injured and, yeah, just chilling and doing my best and training hard," says the member of the Hawke's Bay BMX Club who honed her skills at the newly-built Romanes Dr track in her suburb of Havelock North.
But it wasn't all work and no play in the States. Martin had several interludes while travelling between a dozen states to invest some time in doing a few touristy things.
"I had a lot of fun along the way and it was a little bit distracting but I was there for riding so I kept my mind on it."
That includes adhering to a strict regime of training and dietary habits.
It helped that the person who was driving the tour bus for the small army of BMX riders rustled up meals for them as well as provide beds for them in the vehicle.
The six-week campaign cost her $6500 which meant the money her parents had put aside for her to attend university had been diverted to her potential off-road biking career.
Any tertiary pursuits she harboured while at school have now evaporated because her heart and soul are sold on turning fulltime professional in the BMX world of purpose-built, single-lap tracks where riders can maintain speed on large banked corners.
"I would love to become a professional rider and live in the States at some stage."
What appear to be minor victories in a field of eight open female riders at the rain-interrupted Te Awamutu nationals are in fact timely psychological endorsements that she is on the right course to taming a rash of BMX jumps. These range from small rollers (cluster of small hills) to massive step-up doubles (two hills close to each other) as she tries to negotiate countless berms (turning tight angles without employing brakes) to realise her dream.
Selection to the worlds, of course, doesn't come with any fiscal warranties like many other codes.
"It's all self-funded so I'll probably be working a bit but my parents support me quite a lot," she says.
Training fulltime securing employment isn't practical with frequent travels to the Big Smoke but for now she works part-time at a petrol station in the village.
With her maternal parents living in Ellerslie, it's godsend to find accommodation. She also has been selected for the Pathway 2 Podium development programme in Waikato, which she sees as a starting block to entering the high-performance arena.
It goes without saying Team Martin are indebted to every little bit of help to map a future in a family-orientated, participant-driven sport.