Paeroa BMX Club members did well at the BMX New Zealand National Championships held in Te Awamutu from April 14-16.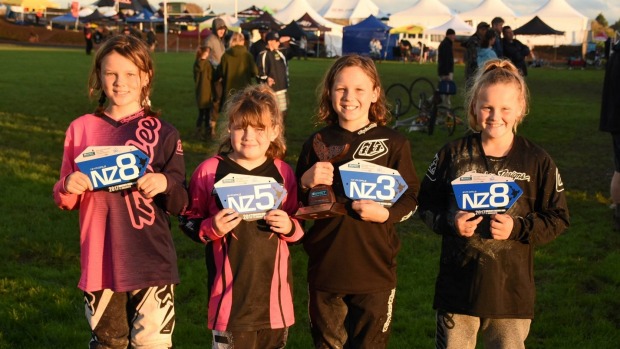 Paeroa members competed against riders from around the country in wet and muddy conditions following the tail of Cyclone Cook.
Four Paeroa riders won a New Zealand plate for placing in the top eight.
They were Gracie Owen, who was third in the 10-year-old girls, her sister Jamie-Lee Owen was eighth in the 12-year-old girls, Danika Bergersen was fifth in the 8-year-old girls, and Taylin Orr, was eighth in the 8-year-old girls.
Other Paeroa riders included Kayla Campbell-Spinks, who came 17th in the 11-year-old girls, and Harry Campbell-Spinks, who came 37th in the 10-year-old boys.
Associate Paeroa BMX Club members Jaylar and Jorgi Jenkins also achieved NZ8 titles or top eight placings in their age categories.
Taylin had held onto third position for most of the champs. After a nasty crash which took a chunk out of her helmet lid and bent her handlebars, Taylin's mum Michelle said it would have been okay if she wanted to finish but Taylin dusted herself off and carried on.
"To get back on her bike and keep going was a massive feat in itself," Michelle said.
Confidence was the number one thing Taylin said she gained from the experience.
"At the start I was nervous but then it was okay," she said.
"We would ride our bikes all day long if we could."
Jaylar was the only girl competing in the five and under category, but her mum Alana said it didn't faze her at all.
"She just did her thing, and held her own," Alana said.
​Jorgi competed in the nine-year-old girls category.
Getting to meet one of New Zealand's first Olympic BMX competitors and silver medallist Sarah Walker, was a highlight for the riders.
"She's so nice. She's really took a genuine interest in the girls competing," Michelle said.
The Paeroa BMX Club holds club nights every Tuesday during daylight savings. The club is currently fundraising for a new ramp and safety start gate for its Taylor Ave track.
For more information, email: paeroabmx@hotmail.co.nz.
– Stuff