London Olympic BMX medallist Sarah Walker enjoyed a successful final hit-out before she heads to Europe to kick-start her career.
Ten years after she first entered the elite grades, Walker took out the FIRST Windows and Doors New Zealand BMX title at Te Awamutu today.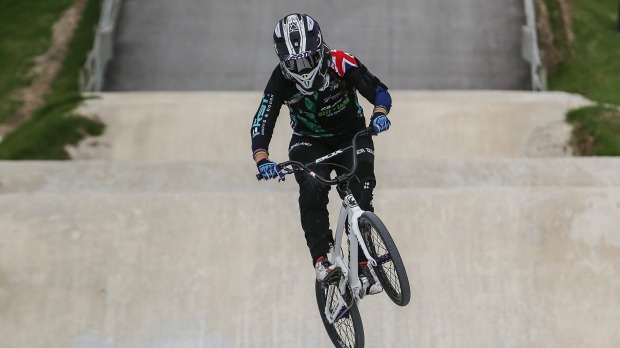 Walker was unblemished in winning all three motos to claim the title, as organisers worked hard to keep the racing on schedule in the mixed conditions.
Gisborne's Nick Fox, who has raced successfully in USA in recent years, took out the elite men's final over world championship representative Michael Bias (North Harbour) and talented Cole McOnie from the local Te Awamutu club.
Junior World Champion Maynard Peel (Sunset Coast) was in a class of his own in winning the junior elite crown, while Hawkes Bay rider Amy Martin won the junior elite category.
Walker won all three of her motos for the title, but did not have things her own way in staving off the challenge from local Te Awamutu rider Rebecca Petch who finished second in each moto, wioth Tahlia Hansen (North Canterbury third..
"I was quite pleased with how today went. It has been 10 years since I first came into the elite class so it was nice to win the national title again after all that time," Walker said.
"It was really good racing. I had good battles with Rebecca in all three races. It was cool to see her step up and give it everything. And it provided some good tough racing for me."
Walker was also in full praise of the track conditions, amid intermittent rain.
"We had four seasons in half an hour. The track is so smooth and to handle the storms that came through and still be a really fast track was an amazing job. All the marshals and officials worked so hard to get the day through bang on time. Everyone working behind the scenes on the event and on the track have done an amazing job. "
Walker, who has been beset by injuries for the last few years, heads to Europe on Sunday where she will train with Rio Olympic medallist Laura Smulders at Papendal in the Netherlands which hosts the opening rounds of the UCI BMX World Cup Supercross next month.
The FIRST Windows and Doors New Zealand Championships conclude on Sunday.
Elite results, men, final: Nick Fox (Gisborne) 1, Michael Bias (north Harbour) 2, Cole McOnie (Te Awamutu) 3. Moto 1 qualifying: McOnie 3 points, 1; Bias 7, 2; Codi Merito (Te Awamutu) 11, 3. Moto 2: Fox 4 points, 1; Matthew Cameron (new Plymouth) 7, 2; Liam Perry (Kapiti) 10, 3.
Junior Men: Maynard Peel (Sunset Coast) 3 points, 1; Ryan Jordan (Hamilton) 6, 2; Mark Harland-Croft (Taupo) 11, 3.
Elite women: Sarah Walker (Rotorua) 3 points, 1; Rebecca Petch (Te Awamutu) 6, 2; Tahlia Hansen (North Canterbury) 15, 3.
Elite Junior: Amy Martin (Hawkes Bay) 11 points, 1; Ashley Williams (North Harbour) 16, 2; Mackenzie Roberts-Craig (Sunset Coast) 19, 3.
-Cycling New Zealand