A BMX and Nitro Circus star who performed the world's first quadruple backflip has no trouble keeping grounded.
Jed Mildon is travelling across New Zealand to promote Nitro Circus and his enthusiasm is not diminished.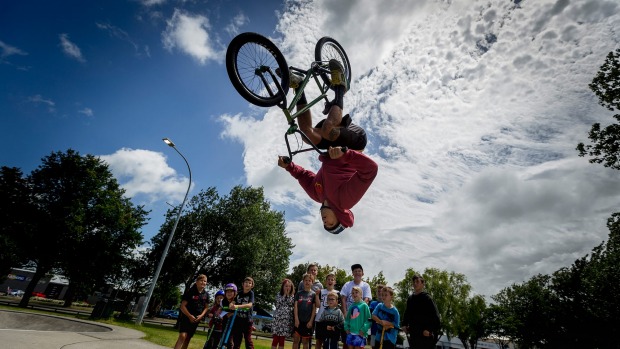 Barely batting an eye, Mildon performs a backflip in front a group of watching children at the Church St skate park in Palmerston North.
The crowd is left dumbfounded.
"It was amazing. It was just right in front of us," Max Thornton, 10, said.
Caleb Aldridge, 13, said he never seen anything like that before in real life – "only on TV".
That reaction is why he still does what he does, Mildon, of Taupo, said.
"I love what I do. Everyone in the circus loves what they do.
"We are here to entertain people. That is why we are still here – to make people happy.
"We get rewarded every day with people's happiness, which is a privilege."
When he was 17, Mildon did his first flip. At 21, he did his first double. At 24, he did his first triple flip and at 28, he pulled off a world-first quadruple backflip.
Now at 30, he tries to take care of his body.
"You need to get a lot wiser.
"When you are 21 you can push it a bit harder."
Mildon said there were people in Nitro Circus in their 40s and he was not ready to give up his spot to any young guns.
How could you not go big in a place like this? Jed Mildon

Posted by Nitro Circus on Monday, 16 January 2017
But going back to skate parks did bring back memories of younger days.
"We all grew up on the skate park. Every day was at the skate park.
"You remember when you were young and how it was to meet someone in my position. It was a special feeling."
Mildon said what he did with Nitro Circus was not so far removed
"It is just a lot bigger ramps now."
Mildon takes time for his young fans, signing everything put in front of him from shirts, to helmets and even scooters.
– Stuff