Kurt Pickard returned home to Tauranga to host a two-day development camp over the weekend for some of the best young BMX riders in the North Island.
The London Olympian is now focused on his coaching career and is employed by some of the top riders in the world, including world No3 Nic Long from USA, who performed well at the Rio Olympics, and world junior champion Maynard Peel from Auckland
Pickard, 25, was pleased to be able to give back to the sport where it all began for him and bring Long with him.
"We were originally teammates. I stopped riding and took over more of a coaching role. I had to bring him here for the opportunity," Pickard said.
"With the kids here, we cover everything from how to warm up properly to technical aspects on the track and just being around so they can ask questions.
It is cool for the kids to get an autograph and vibe off the day."
Long, 27, from Santiago, competed in Auckland at the World Championships in 2013 but this was his first time to explore the country.
He says Pickard has helped him become a better BMX rider and athlete.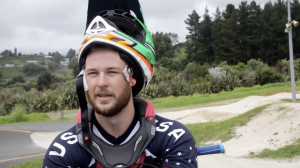 "I was already at a top level but he was able to know me as a person and also as an athlete to be able to hone in on just the little things. The little one per cents I was missing that helped get me into the final in Rio and to have a shot," Long said.
"I blew it after that but he was able to bring out the best athlete in me."
Long was impressed with the standard and enthusiasm shown by the kids aged from five upwards at the training camp held at the Tauranga BMX Club track.
"I have seen some of the kids who come over to America and race the age group races. The skills are definitely there. Getting the international competition and experience is key. Being able to get around the world is the hard part but it is the best thing you can do for yourself if you want to get up to be a top athlete."
Tauranga BMX Club spokesman John Wragg says the young elite riders came from as far afield as Wellington and Northland to work with Pickard and Long.
"The brainchild of getting him here was Kurt is a good Tauranga boy from way back and he has always been sympathetic to coming back to Tauranga and helping local riders.
"He is a name that represented New Zealand at the Olympics and he is the sort of guy who has a really strong connection with the younger riders. They look up to him, he is very approachable.
"We trained (on Friday) and had about 25 riders and there were probably 40 here (Saturday). Most of the riders would be in the top eight to 10 in their age groups in New Zealand. They are more from the top end and they are really trying to hone their skills, take it to the next level and really leverage off Olympic preparation, elite riding preparation and just exposure to those little finer points.
"It is great that we have a sport where we have riders who have gone to the top yet still connect down the bottom and that is a pretty cool thing."
– Bay of Plenty Times