Not many people can say that they get to celebrate their 10th birthday by winning a third world championship title.
But that's exactly what Sacha Earnest did on May 25 at the UCI 2016 BMX World Championships held in Medellin, Colombia. Sacha rode her way to victory in the 10 year girls' category, having won her first world title in 2013 in Auckland, backing it up winning again in 2014 in Rotterdam, the Netherlands.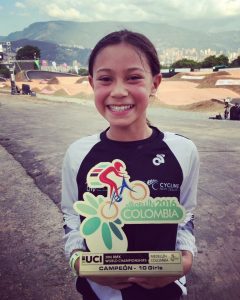 Last year at Zolder, Belgium, she came second in the 9 year girls' final. After a bit of a break from BMX (she also rides mountain bikes and swims), Sacha was determined to get back on top of the podium. She had a six week focused training programme after her New Zealand season of racing leading up to this year's BMX World Championships which worked perfectly as Sacha out-skilled the rest of her competitors to dominate every race, including the final.
The conditions in Colombia were testing at times as it was hot, humid and at altitude. And the track was built next to an airport so races had to be stopped at times for low flying planes.
Sacha is also a 2014 AMP National Scholarship recipient and an ambassador for the programme. She will also be involved in the 2016 AMP Scholarships with will launch on July 14.
– Times Live