Patience may be a virtue for the experienced Sarah Walker as she chases Olympic qualification at the UCI BMX World Championship in Colombia on Sunday and Monday (NZ time).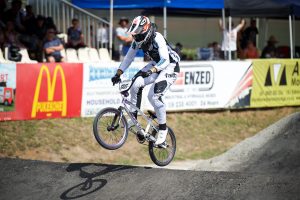 Rain is predicted over the weekend in Medellin but racing can extend into the evening under lights, which could mean a long, drawn out competition should the weather intervene.
The world championships is the final qualifying event for the Rio Olympics with Walker still to qualify after missing much of the four years since her silver medal in London with injury.
New Zealand has currently qualified one spot for men but none for women, with Walker now left to chase one of three individual places still available. She will be in a virtual match-racing situation although Cycling New Zealand BMX coach Ryan Hollows says they will not take that into consideration.
"We are approaching the event like any other and taking things one lap at a time," Hollows said. "We can't be concerned at what is at stake nor any other rider in the competition. We will treat it like any other event and focus on every gate, and every lap.
"If we do that, not just Sarah but all of our riders, then the results will take care of themselves.
"Sarah has prepared and trained very well and is ready to go."
New Zealand has five elite riders at the world championships with Walker in the elite women, Taranaki's Matt Cameron and North Harbour's Michael Bias in elite men, Te Awamutu's Rebecca Petch and Sunset Coast's Maynard Peel in junior elite.
The squad has been based in Florida with Walker and Cameron joined by the junior elite riders for a short time.
"It's been ideal. We have been able to acclimatize to the heat and there's been a range of good tracks and facilities for training. Plus it was a simple one hour flight to Medellin which means we have been able to arrive a little later."
The Challenge age group competition this week was affected by weather with more rain predicted.
"It was the same when we were here six weeks ago when rain was predicted but never came."
The elite track is a separate facility across the highway from the Challenge track, and with the addition of high quality lighting, the championships can be run at night if required.
"That would likely mean a drawn out competition but that is something we are used to and with Sarah's experience it is something we can handle better than others."
The elite riders will have their first practice tomorrow afternoon. Competition starts with qualifying time trials on Sunday (NZ time) with the time trial counting towards individual rankings where Walker is confident after winning the bronze medal at the world championships last year.