The 'Thank a Sport Maker' campaign, is to recognise the hundreds of sport volunteers (or Sport Makers) who literally make sport happen in NZ communities.

Kaitangata BMX Club in South Otago has had Dallas Storer nominated and he has won the volunteer prize and has now been put forward for a chance to with the team ultimate prize.
DALLAS STORER  –  Kaitangata BMX / Skate / Bike Park
Nominated by Gwenda Nyhon who wrote the following:
"Dallas was involved in a car incident in his teens leaving him in a wheelchair with paralysed legs and a less than useful left arm.  Rather than take the path of "woe is me", Dallas made the most of life and what he could achieve as he was.  One of his first projects was the organisation of the now infamous annual "Bush Bash – Lake to Sea" biking experience. This included negotiating with landowners, preparing tracks, coordinating working teams to assist him – running very successful days with food preparation included. Dallas himself was involved in the initial clearing of scrub and gorse from the tracks.

Dallas was then instrumental in realising the idea to form a BMX track on wasteland at the entrance to Kaitangata.  Although Dallas has a very loyal core group of supporters, he was the driving force, organising volunteers, materials and sponsors, working hard behind the scenes for hours and days on end.  Dallas did not let his physical disability impede him in any way and could always be seen at the site in all weathers doing what he could, be it laying concrete, shifting soil or digging holes.  The BMX club is now very strong with some 30 plus children and adults from the wider South Otago area attending weekly competition nights through the season.

This vision was then extended to include a jump park alongside the BMX track and now further land has been developed to build a skate park.  Once again, Dallas has been the driving force, contacting appropriate engineers, designers, and builders of skate parks. He has organised voluntary workers to assist Dave North in the build, a wonderful community effort.

This young man is a true testament of an amazing volunteer who has achieved so much under adversity, transforming a derelict piece of land into a piece of paradise for young and old to enjoy.  Dallas relates well to young people and it is an absolute delight to witness the many people from far and wide who use these facilities.

Dallas, a very humble man who wishes no accolades for himself, is the true epitome of an outstanding volunteer."
It would be really great to get the BMXNZ community in behind Dallas's and BMX Kaitangata club's chances as its been a whole team effort.
Go to www.goodonyou.co.nz to vote now for Dallas.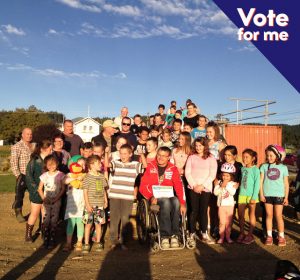 The campaign is part of a partnership with Lotto NZ and Sport New Zealand, that has seen over $1 million of quality clothing and sports gear awarded to Sport Makers throughout New Zealand over a three year period.    Individuals can be nominated for their contribution to sport by others, and then on the strength of their nominations are considered for a quarterly draw of $2000 worth of sports equipment or clothing for their team or sporting organisation.

Lotto NZ has just announced the winners, who will each receive the $2000 prize. These winners will also get the chance to win a team prize that could include elite coaching, a team trip, or a sponsored club day. This decision is based on a public vote available from 26 April at:   www.goodonyou.co.nz