The lure of Olympic qualifying points has lured three BMX world champions to Auckland next week for the UCI Oceania Championships.
A full strength Australian team, led by Caroline Buchanan and Sam Willoughby, will meet the might of New Zealand, with Sarah Walker and Trent Jones at the helm, for the one-day competition on Sunday 31 January at the Sunset Coast BMX track at Puni near Pukekohe.
The New Zealand high performance team will also be among the action on Saturday for the FIRST Elite National Championships which will act as a shakedown for the Oceania Championships.
Cycling New Zealand BMX national coach Ryan Hollows said it is an important weekend for New Zealand BMX riders.
"The Oceania Championships carry significant qualifying points for the Rio Olympics, lying below the world championships and Supercross World Cup," Hollows said.
"Those points are important and that's why Australia are coming with a full strength team. It will provide us not only with some high qualify competition but the opportunity to boost our Olympic qualifying points."
Australia will be led by Buchanan, the 2013 world champion who finished runner-up in the worlds last year, as well as winning the time trial world title. The 25 year old is currently ranked fourth in the world.
She is joined by Lauren Reynolds, runner-up to Buchanan at the world championships in Auckland in 2013, who is currently ranked eighth in the world.
The men are led by the irrepressible Sam Willoughby who is a four-time world champion – twice as an elite in 2012 and 2014 and twice as a junior elite. He also won the silver medal at the London Olympics.
Walker, who had much of 2014 and 2015 out injured, showed she has begun to return to form by winning the bronze at the time trial at last year's world championships. The London silver medallist is up to a world ranking of 15 and is looking for continued points in international competition from next weekend until the world championships in Colombia at the end of May.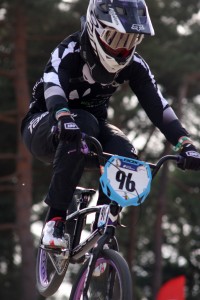 Jones is the top ranked New Zealand male currently 15th in the world after a solid 2015 where he made his first elite world championship final as well as a final and two semifinals in world cup competition.
Saturday's national championship is for junior and elite men and women, starting from 1pm while Sunday's Oceania Continental Championships will cater for both elite and challenge classes, with approximately 400 riders competing. Racing starts at 11am.
CAPTION: Sarah Walker in action at the UCI BMX World Championships last year. Credit: Nico van Dartel