Trent Jones and Sarah Walker closed their season with more encouraging form, with both making semifinals at the final round of the UCI BMX World Cup Supercross in South Carolina, USA today.
Both had been in impressive form at the new Rock Hill circuit, although riders had to cope with light rain throughout today's racing.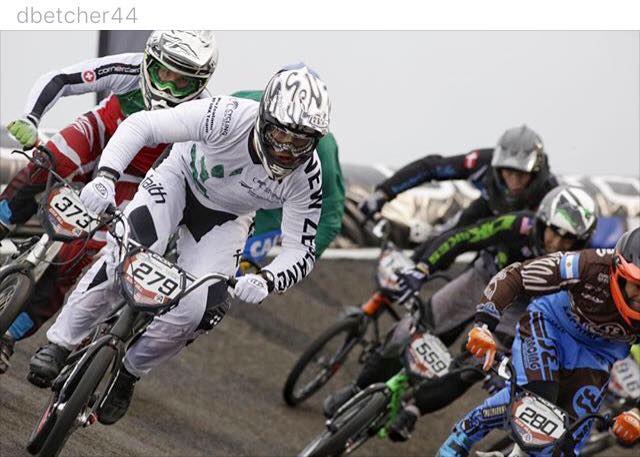 Walker, who injured her back after a fall in training earlier in the week, was impressive in today's elimination motos, recovering from fifth in the first heat to be second in the other two rides behind Australian Caroline Buchanan.
This elevated Walker directly to the semifinals, where she drew the middle lane. However she missed the snap out of the gate and with it a chance to reach her first Super Cross final in more than two years.
However it did mark a strong return for Walker, who was among the fastest in training and qualifying and close to being back at the top of the sport.
"A few days ago we did not think she would even be racing, so to come away with a semifinal is excellent," said Cycling New Zealand BMX coach Ryan Hollows. "Sure she missed the gate in the final but overall Sarah is tracking well and her return to the top level of the sport has been impressive."
Jones, 21, was one of the fastest riders throughout the competition and was again hugely impressive in the elimination motos, with two wins and a second placing to top his qualifying group.
The North Canterbury rider, now based in USA where he trains with multi world champion Sam Willoughby, was slightly slower out of the gate but cut under world champion Niek Kimmann on the first turn with a superb move to finish second behind Willoughby.
He was again a fraction slow on the snap out of the gate in his semifinal, and then was cut off for the first turn by Australian Anthony Dean. After taking evasive action, Jones was then out of any serious running for a top four placing and a place in what would have been his first Supercross final.
"Trent was definitely looking for his first final and he is disappointed to miss it," said Hollows. "At the same time he has finished the season healthy, as one of the fastest riders and learning every day."
Jones finished 20th on the World Cup rankings and Walker has risen to 18th.
"Both riders are within one percent of the world's best in their times and both are tracking well towards qualification for Rio.
Earlier teammates Matt Cameron and Dan Franks both missed out on the quarterfinals in the elimination rounds.
Walker, Jones and Franks now head to Rio for Olympic test event next weekend.
Results, men: Quarter final 1: Sam Willoughby (AUS) 1, Trent Jones (NZL) 2, Niek Kimmann (NED) 3. Quarterfinal 2: Liam Phillips (GBR) 1, Tory Nyhaug (CAN) 2, Amidou Mir (FRA) 3. Quarterfinal 3: Maris Strombergs (LAT) 1, Carlos Zabala (COL) 2, Body Turner (AUS) 3. Quarterfinal 4: Connor Fields (USA) 1, Anthony Dean (AUS) 2, Joris Daudat (FRA) 3.
Semifinal 1:Kimmann 1, Daudet 2, Fields 3, Nyhaug 4. Semifinal 2: Phillips 1, Strombergs 2, Dean 3, Mir 4. Also: Jones 6.
Final: Strombergs 1, Nyhaug 2, Fields 3.
Women, semifinal 1: Mariana Pajon (COL) 1, Alise Post (USA) 2, Brooke Craig (USA) 3, Simone Christensen (DEN) 4. Also: Sarah Walker (NZL) 7. Semifinal 2: Caroline Buchanan (AUS) 1, Stefany Hernandez (VEN) 2, Danielle George (USA) 3, Laura Smulders (NED) 4.
Final: Pajon 1, Hernandez 2, Smulders 3.