Letting kids be kids is important for mother of three Kylee Stevens – and it's paid off in style, with one of her children now a BMX world champion.
Kylee's three sons Lachlan Stevens-McNab, 11, Wyatt, 9, and Sterling, 7, are avid BMX riders, and although the family are too modest to admit it, they're pretty damn good.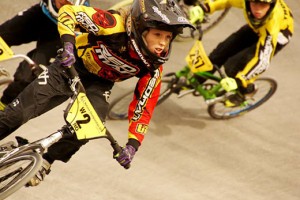 Lachlan has competed at the last three BMX World Cups and has won the title for his age groups twice. He is currently ranked number two in the world.
Kylee says BMX-ing started for her boys when Lachlan was only 4-years-old.
"Our eldest boy was into motorbikes and he was out with his father," explains Kylee
"He said 'what's that?' It was some kids riding around a BMX track. So they went home and got a bike for him with little tiny wheels. He went down for a ride and he's been hooked ever since.
"Neither of us were into biking. Steve did judo and I was a softballer."
Kylee says it's a great sport that enables families to spend time together.
"It's not something where you can just drop your kids off and leave them there," she adds.
"You need to be there with them. It's great, it's really social with all the families and we've made really great friends at BMX."
Like all sports, there are always risks of injury, but Kaylee says you have to let kids be kids.
"They have to wear full-face helmets, long pants, longs sleeve shirts, gloves and shoes," she explains.
"Our boys all wear armour underneath, and you can get armour for kids like elbow pads and knee pads.
"I'm a physical education teacher and I think unless kids learn what are sensible risks and what are not, then they're not going to be good at decision making when they're older."
The three boys will form part of a number of top riders at the Rotorua BMX Club Open Day being held at Te Ngae Rd, Rotorua on September 13.
The event is open for all age groups and it's a great chance to ask questions about the sport in a relaxed and fun environment.
Kylee says the club will have some bikes and helmets available to borrow – just make sure you wear long pants, long sleeve shirts, gloves and closed shoes.
Even if your youngster isn't ready to pedal, the club suggest bringing down the child's strider bike and joining in on the fun.
The event runs from 10.30am to 1.30pm. For more information, check out the club's Facebook page at: www.facebook.com/RotoruaBMX
 By Greg Taipari
Sunlive