You might think BMX racing is all about technique in getting over those tricky humps in the tracks.
But while technique plays a large part, the key factor is mental toughness.
"When you are at the top of an 8m ramp and you have a 12m jump, you can't doubt yourself," she said.
"That's the hardest thing, knowing that you have to do it."
Welcome to Zoe Fleming's world, a world that might just be expanding after some stellar recent displays in Australia, annexing the Oceania and Australian national series as the top elite junior woman in the region.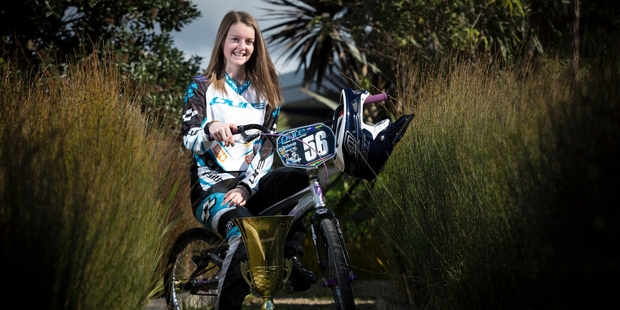 The national series silverware was huge, a gold-plated trophy that would have almost needed an extra seat on the plane.
The 17-year-old Fleming is back at Glendowie College focusing on her Year 13 studies, but, with training six days a week, BMX is never far from her mind.
"The school's been awesome. If it wasn't for the teachers being supportive and helping me catch up with work, I wouldn't be able to do it."
Fleming gets plenty of internal family competition from younger brother Jayden, a fine BMXer in his own right, and ranked No 7 in the country.
They push each other. Zoe is ranked No2 after being runner-up at the nationals in Christchurch earlier this year.
She replies without hesitation when asked her long-term goal: "The Olympics in 2020."
Following in the footsteps of our very own BMX Olympian Sarah Walker, then.
Fleming has trained with Walker and stayed with her when competing down in the Bay of Plenty.
"She encourages me a lot. She texts me when she comes to Auckland," says Fleming.
And while Fleming has not had any career-threatening injuries like those Walker copped in 2014, she has broken a collarbone and shoulder blade in the past. But she takes it all in her stride. Them's the breaks in BMX.
Fleming, who rides for the Papakura BMX club, as there is no schools BMX competition, is a Pathway to Podium athlete. So she has impressed the right people and is getting all the right support needed to be the best she can be in her sport. When she started at just 8, it was all about passion. It still is. She just trains harder now.
On the horizon are the North Island champs in Taupo at the end of October. Then, on the night of her last exam, she flies out to the USA for a big event, another stepping stone in this burgeoning career.