Marc Willers was the best of the New Zealand riders making the semifinals in the opening round of the UCI BMX World Cup in Manchester.
Willers, based in California, finished sixth in his semifinal after being caught up on the first turn, in an encouraging return to top level racing indoors at Manchester.
The 29 year old was fourth after the three motos, comprising the 48 first-day qualifiers along with the 16 exempt seeds that included the Kiwi.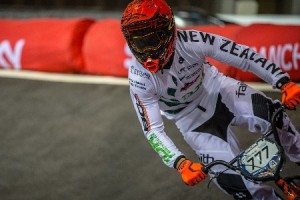 He placed third, fifth and fourth in his three races to advance to the quarterfinals where he was again fourth from the outside lane seven, keeping clear of some carnage inside and holding off American Justin Posey for the last spot to the semifinals.
Willers was competing for space with Jellie van Gorkom (NED) over the first jump and as the Dutchman lost some control, it slowed Willers for the important second jump, and he was unable to recover that speed, finally settling for sixth in the semi and a share of 11th overall.
"It was a solid start for Marc and pleasing to see him showing some of the old spark and he was unlucky not to make the final," Cycling New Zealand BMX coach, Ryan Hollows said.
"It was a tough and hard day out there."
National champion Matt Cameron suffered after falling in practice, missing out by one place for a spot in the quarterfinals, and likewise Daniel Franks, with a sixth in his opening moto proving costly.
Trent Jones, who looked strong on the first day, was below his best, finishing sixth in his group after the three motos and did not advance.
However North Harbour's Michael Bias, competing as an individual rider, impressed to be fourth in his moto group to qualify for the quarterfinal.
Home town hero Liam Phillips (GBR), the 2013 world champion in Auckland, claimed the overall honours in the grand final ahead of Amidou Mir (FRA) and Nic Long (USA).
Australian Caroline Buchanan, last year's overall World Cupw inner, took out the women's final ahead of American Alise Post and Stefany Hernandex (VEN).
The second round is in Papendal, Netherlands next month.
Results, men's final: Liam Phillips (GBR) 1, Amidou Mir (FRA) 2, Nicholas Long (USA) 3. Semifinal 1: Phillips, Sam Willoughby (AUS) 2, Twan van Gendt (NED) 3, Edzus Treimanis (LAT) 4. Also: Marc Willers (NZL) 6. Semifinal 2: Long 1, Joris Daudet (FRA) 2, Tre Whyte (GBR) 3, Mir 4.
New Zealand results, placings in motos in brackets: Willers 4th (3, 5, 4); Michael Bias (North Harbour) 4th (4, 3, 6); Daniel Franks 5th (6, 4, 4); Matt Cameron 5th (7, 2,6); Trent Jones 6th (5, 5, 7).
Quarterfinal 1: Quarterfinal 2: Phillips 1, Whyte 2, Treimanis 3. Also: Bias 7. Quarterfinal 2: Connor Fields (USA) 1, Van Gendt 2, Kyle Evans (GBR) 3, Marc Willers (NZL) 4.
Caption: Marc Willers in action in Manchester. Photo credit: Craig Dutton.
Video: http://bmxlive.tv/video/2015-manchester-live-main-event