I have been riding bikes since I was 3 years old & racing BMX since I was 4.
My parents have been riding mountain bikes for like forever!, so it was pretty natural for me to be on a bike.
My big brother Jake started racing BMX when he was 4. He was really good, & still is, & it looked like he was having a lot of fun. I thought if he can do it, so can I!
He was right, it IS a lot of fun.
Competing, & winning, at two BMX World Championships have been two of my most proudest moments of my life so far. I was very proud to wear my black & white New Zealand jersey & represent myself, my family & my country. It was a super good feeling.So now, I guess I'm pretty well known at my school, my local area & the BMX community as a whole. A lot of kids do come up to me & ask me lots of things, either BMX or other stuff.They are always very nice to me.Now, I hear that a lot of BMX riders, especially younger girls, look to me for inspiration to ride stronger & faster, which makes me feel happy. I have always admired my teachers at school & really like the idea of giving back to my community, so with the help of my family I started my #ridelikeagirl BMX clinic.What does it mean to "ride like a girl"?
It means to try to ride your bike as fast as you can.
To never give up.
To ride a bike with confidence & without fear or limits.
It means doing the best you can & feeling good about it.
It is simply… to be yourself.
The aim of my clinic was to try to introduce young girls to the wonderful world of BMX.
Because I love riding bikes & it makes me feel good, I would like everyone to be happy riding a bike too. Even if they try it & then decide they don't like riding a BMX, that's ok, as long as they had given it a go. It might make them give something else a go, like it, make goals & reach for the stars.
To show the world kiwi girls can do anything!
What started out as a small idea with my parents, we knew we needed at bit of help if it was going to be successful. We asked our good friends & the most experienced sprocket trainers we know, Mel Sykes & Leah a Belle to help out on the day. My mum had also been talking to Jill Smith about a girls-only BMX clinic a week earlier & we were honoured to have all three Smith girls, Monique, Taylor & Jessie, agree to help us. Once we put the word out there, Zoe Fleming was also keen to coach the girls too. I thought it'll also be a great idea to get friends my age involved & was very lucky that Leila Walker, Greer Hall & Lily Greenough were keen to support & help train the girls. I was extremely honoured & humbled by the support from the BMX community. They were all taking time out (& traveling from the Waikato to Auckland for some) to offer their services for free because of this idea! Wow!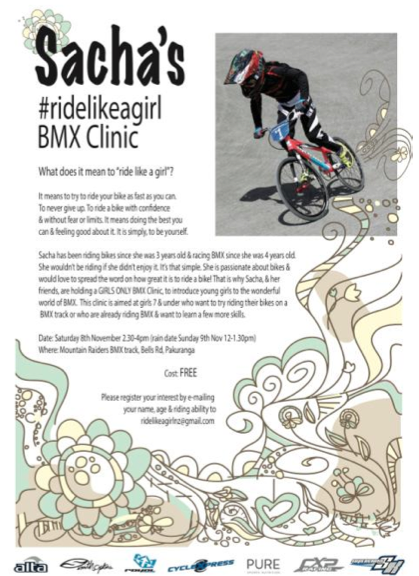 The day was a great success with 35+ girls turning up to ride their bikes & learn from me & my BMX friends. I was very pleased with all the support & good feedback from doing the training clinic.
We hope to do some more clinics & perhaps… start a revolution with BMX girls from their area taking on the idea & holding their own #ridelikeagirl BMX Clinic.
Thank you again to our trainers – Mel, Leah, Monique, Taylor, Jessie, Zoe, Leila, Greer & Lily. And it wouldn't have happened without the support from my family – Anna, Dion & Jake!
Cheers,
Sacha Earnest
@sachastarw1
@teamxoxoridesbmxsometimes