Duane Royal at Tauranga BMX is always looking for new ways to get kids into the sport of BMX racing.
One day while at the track he was having a chat with some parents who were complaining about their under 5's not having a sport that they could be involve in, and thought because their kids were not able to race the whole track they considered BMX racing not a option for them.
That was all Duane needed to hear, from then on, Duane made it his mission to get the strider racing off the ground for kids as young as two. The planning was started, flyers were printed, delivered around to all the local kindy's and also getting the local paper on board to promote it, even finding sponsors, then boom we had strider racing with the first night having 30 kids turn up to give it a go.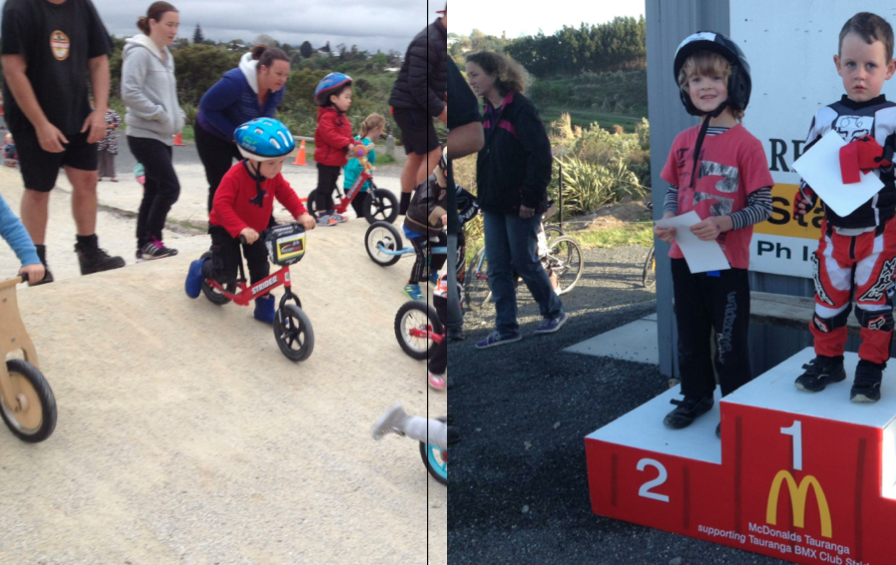 The Strider racing for under 5's has gone crazy with up to 30 kids coming to give it a go every week! We have made Strider racing all about having fun and learning some skills at the same time. We have gone all out with making this so much fun the kids are begging their parents to come back! After racing is done we have a prize giving and give out ribbons to all kids who raced on the night, and we also have a cool podium for them to stand on and that's a big hit for the kids, to make it even sweeter, all the kids get prizes too! Thanks to the main sponsors McDonald's and Livingstone Builders.
The parents are real happy as their kids are not kept out too late, Strider class start at 5:30 pm and ends at 6:00pm, we run 2 motos then tally the top points getters and then run the finals so it's all over just before our club racing starts, that way the little ones can hang around and watch the big kids race, they can grab a bite to eat from our club shop, then get them home to bed.
We are so happy that it has taken off because getting kids involved in cycling at such a young age is great for BMX in New Zealand and it even gives them some life skills too.
Duane Royal
Public Relations & Media Co-ordinator Tauranga Bmx Club
PH 021 0546668
Email dcandncroyal@xtra.co.nz