Twenty-year-old Trent Jones powered his way to victory in the final of the Olympic qualifying BMX event in Cambridge today.
It proved a strong day for the former Northland and North Canterbury rider only five months after he suffered a life-threatening punctured lung following a crash in qualifying races at the world championships.
He and fellow Cycling New Zealand (formerly BikeNZ) BMX high performance teammate Matt Cameron dominated the three race-motos in the UCI Category 1 event this afternoon at the Cambridge BMX track.
Jones won all three qualifying motos while Cameron from Taranaki won two with Australian Bodi Turner claiming the remaining race.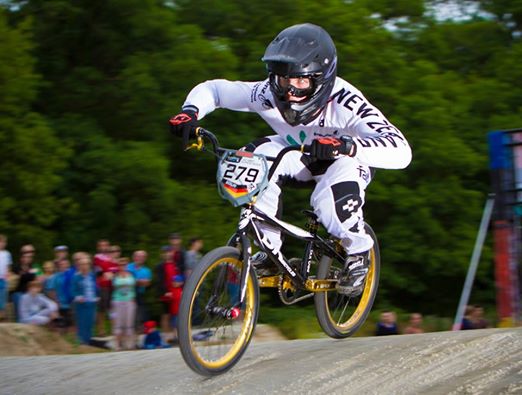 Cameron made the best of the start in the grand final and led until he mistimed part of the rhythm section on to the final straight where Jones pounced to hit the front.
"I've had a good block of six weeks training in the gym and start ramp at the velodrome in Cambridge and on the track here and at Te Awamutu," Jones said.
"There's been a lot of gym and strength work because we are not racing as much right now and we have recently converted to more track time to get faster on the bike.
"It's been extremely good today. I felt good on the bike and even though it is a smaller track there's still burning in the legs.
"The major aims were getting back on the bike again and getting as many qualifying points for New Zealand. I haven't had any racing since my crash and so it's nice to take the win.
"Tomorrow is another round and I will be looking to carry this form on and then look to some other Olympic qualifying events in Australia after Christmas."
Tauranga's Cody Stevens finished third in the grand final ahead of US-based Marc Willers who is another rider coming back after long-term injury.
Taranaki's Victoria Hill won the elite women's honours over three races, one point ahead of BMX high performance squad rider Hannah Sarten, the leading junior elite, with Gisborne's Monique Smith third.
Geelong-based New Zealander Brandon Te Hiko won the men's junior elite with three straight wins ahead of Todd Barry and Jarrod Browning.
Sunday's second UCI Category 1 event starts at 11am in Te Awamutu BMX Club.
Results:
Elite men leading qualifying motos: Trent Jones 3 points, 1; Bodi Turner (AUS) 5, 2; Matt Cameron 7, 3; Ryan Lewis (Te Awamutu) 8, 4; Nic Fox (Gisborne) 10, 5; Cody Stevens (Tauranga) 11, 6; Marc Willers 12, 7; Daniel Franks (North Avon Canterbury) 12, 8.
Grand final: Jones 1, Cameron 2, Stevens 3, Willers 4, Franks 5, Turner 6, Fox 7, Lewis 8.
Elite women (3 rounds): Victoria Hill (New Plymouth) 5 points, 1; Monique Smith (Gisborne) 10, 2; Amelia Walsh (Canada) 13, 3.
Junior elite men: Brandon Te Hiko (Geelong) 3, 1; Todd Barry (Cambridge) 8, 2; Jarrod Browning (Cambridge) 13, 3 (on countback from Codi Merito (Te Awamutu) and Cameron Petch (Te Awamutu).
Junior elite women: Hannah Sarten (Te Awamutu) 6 points, 1; Tahlia Hansen (Rangiora) 11, 2.