Sue Walker, the New Zealand Challenge Classes team manager, witnessed a great exhibition during racing at the UCI BMX World Championships.
On day one, 12 New Zealand riders paved the way for the opening session, all finding the skills and competitive drive of the large European contingency tough work.
A clear standout was Adam Coker who won all of his races convincingly in the 25-29 year old division.
Jason Kelly crashed in his first moto, but came through his qualifiers to finish second in the same division.
New Zealand riders gained strength and confidence through their eights, quarters and semi- finals, giving their best and showed their great Kiwi spirit.
Please click here to view Day 1 NZ Results – World Challenge 17 and over/World Championships Masters. 
The second day of challenge class competition saw 5-11 and 12-16 year old riders compete, with New Zealand riders earning 4 gold, 4 silver and 3 bronze medals.
Kiwi riders represented New Zealand on Day 2 at the BMX Worlds in Rotterdam with pride and determination. The gates opened at 6.30am for the 5 to 11 year olds morning session, with racing commencing at 8.30am.
Team Management ran the pits area well where cool-downs, refreshments and organisation all resulted in a stress free rider atmosphere.
The afternoon session of 12 to 16 year old riders had its highs and lows with riders pushing themselves, resulting in some casualties. The results show a positive succession from the Auckland World Championships in 2013 through training, International travel (at riders' expense) and New Zealand tracks. The number of riders who made it through to semi and quarter finals throughout the day is a credit to their skill and hard work in training.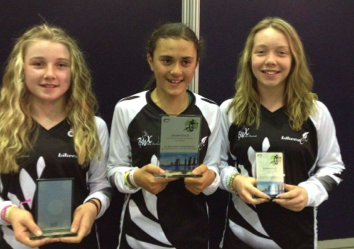 Day 2 Results – Challenge Classes
5-6 Yr Boys
Sterling Stevens-McNab 5th in 1/4s
5-7 Yr Girls
Lily Greenough 5-7g W3
Bronze Medal Nora Troop Qualifiers
7 Yr Boys
Rory Meek W3 – Bronze Medal
8 Yr Boys
Lucas Bhimy
Wyatt Stevens McNab W2 – Silver Medal
8 Yr Girls
Sacha Earnest W1 – Gold Medal
9 Yr Boys
Jake Earnest 5th in 1/8ths
Jack Greenough W6
Maui Morrison 7th in 1/8ths
Konrad Troup Qualifiers
9 Yr Girls
Leila Walker W1 – Gold Medal
10 Yr Girls
Laura Fisher Qualifiers
Megan Williams W3 – Bronze Medal
11 Yr Girls
Maia Colman Savage W2 – Silver Medal
10 Yr Boys
Keegan Calkin Qualifiers
Nathan Jordan Qualifiers
Toby Meek 6th in 1/8ths
Lachlan Stevens McNab W2 – Silver Medal
11 Yr Boys
Rico Bearman W1 – Gold Medal
Bennett Greenough W8
13 Yr Boys
Cailen Calkin W1 – Gold Medal
Mason Colman Savage Qualifiers
14 Yr Boys
Ryan Jordan 7th in semis
Mitchell McFarlane Qualifier
15 Yr Boys
Jayden Fleming Semis
Maynard Peel W8
16 Yr Boys
Bayleigh Rees Semis
Lewis Smith Quarters
12 Yr Girls
Maia Troup Qualifier
13 Yr Girls
Mikayla Bearman Semis
Kaly Harcourt W7
Baylee Luttrell W4
Jessie Smith W2 – Silver Medal
15 Yr Girls
Amy Martin Semis
16 Yr Girls
Zoe Fleming Semis
Rebecca Petch W8 (unlucky to crash)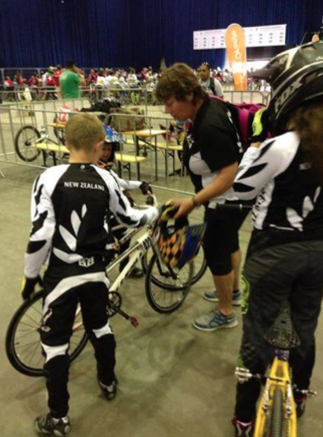 The final day of challenge class competition saw the cruiser classes battle it out, with New Zealand earning a gold and a silver medal.
Cruiser Class Results, BMX World Champs Day 3:
13-14 Yr Boys
Mitchell McFarlane 1/8ths
Ryan Jordan 6th in 1/4s
Calien Calkin 8th in 1/4s
17-24 Yr Men
Joshua Jordan Semis
25-29 Yr Men
Adam Coker W1 – Gold Medal
30-34 Yr Men
Mike Reader Semis
40-44 Yr Men
Dion Earnest 1/8s
45+ Yr Men
Paul Luttrell W7
Scott Hazelwood W2 – Silver Medal
16 & Under Women
Rebecca Petch Semis
Jessica Smith W4
30+ Women
Jeanette Davies W4