Louisiana
We had planned a family holiday around a work trip to the states and no bike riding planned, this didn't go down to well with Rico. He figured if we were going all the way over there then he wasn't going to miss out on catching up with friends that have been made over the years of BMX and the chance to also compete against them in one of the most competitive series in BMX. The calendar was perfect for our schedule 3 national rounds in 2 weeks.
So we made the long haul to Monroe Louisiana, famous for its southern food & Duck Dynasty TV series.
We arrived on the Thursday and got straight into it. Built the bike and few manuals and hotel car park ride later it was time for dinner and bed. Friday was practice and pre-race day. The pre-race has no points for the series but is a good chance to get a couple of laps before the weekends racing. The way they do things here is to have 2 separate days of racing. Saturday you have motos and a final and then the same again Sunday, so its 2 separate events as such. If you have a shocker on Saturday then Sunday is another day to start fresh.
The track was built indoor for just the weekend , it was definitely smaller than NZ tracks but the it seemed to be fun and provided plenty of close, fast racing. Racing went well for Rico over the weekend, taking the win for both Saturday and Sunday. In doing so he was awarded the A3 most impressive rider of the weekend.
This was the race report from BMX NEWS
At every national I get to attend, there always seems to be a different type of feeling circulating in the air. Things were no different here in West Monroe, or Munroe as locals pronounce it. When the last gate dropped and folks started shuffling out, there were three riders who really stood out during Saturday's racing.
The first of those was Rico Bearman coming straight out of Auckland. He did not lose a single lap all day and he is definitely looking to take over the 10X class. I already have a good feeling he will be taking wins in both open and class again tomorrow.
Rico Bearman was tops of the 10 year olds, taking a double-double in 10x and 9-10 Open. Fierce enough to earn him a new award USA BMX is giving out on Sundays before the mains on national weekends.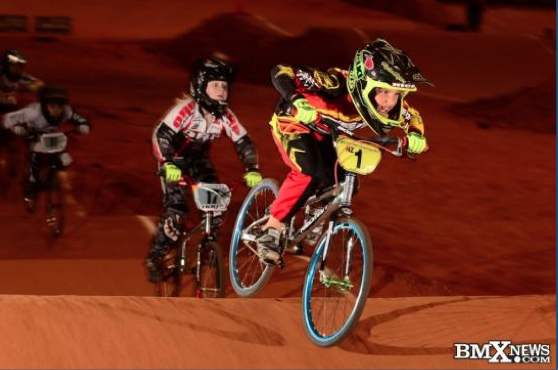 Phoenix
Next stop was Phoenix, another day of traveling and a late arrival, lucky everything is open all the time in America. Once picked up by the Dittrick Family it was time for the boys to catch up and for me to down some local craft beers and sushi. The boys got to have a training session with Bubba Harris which awesome, Rico totally enjoyed the opportunity to ride with such a legend of the sport.
The rest of the team rolled in on Thursday, so we went go karting and caused Chaos. 15 BMX'ers on a go- kart was always going to fun.
We ended up one rider down for the weekend with Julian Dittrick crashing in practice and broke his wrist quite badly so that wasn't an ideal start to the weekend. This was his local national so he was pretty gutted to say the least. Friday Rico didn't do the pre- race as it seems to be a tradition that all the factory teams skip racing and all go out for dinner and talk shop which was a good opportunity for the kids to all catch up parents to have some down time prior to the weekend.
Saturday was upon us and it was time to get down to the track and race. Rico was looking forward to catching up with Maynard Peel and Logan Hall as they both had made the trip to Arizona. Maynard was there with his Factory team that he has been racing with this season and Logan had made the trip out from NZ to get a taste of some serious racing.
The sun was out and there were plenty of riders entered. There were 40+ just in the expert class which provided awesome racing even in the motos.
All 3 of the kiwis proved to the Americans that they weren't here just to spectate with all making the finals on both days. All three age groups had kids that had made the worlds finals from NZ. Logan and Rico raced against 3 finalist from the worlds which is makes it really competitive and a great challenge for them.
Maynard crashed out on Sunday in spectacular style over the berm while challenging for the lead. Logan picked up a 2nd on Saturday while leading 4 out of 5 straights and then on Sunday he had a crash which took the edge of his speed, still made the main on Sunday but didn't get the win which he definitely was capable of. Watch this space as I am sure he will have a factory ride after his performances. Rico managed to get the wins on Saturday and Sunday again after some intense racing over the weekend against some of America's top riders.
BMX NEWS REPORT 
In the Am ranks there were a bunch of hot shoes getting the job done. New Zealander Rico Bearman came away with a double in the 9-10 and 10 expert classes. Redman has another top contender on his squad in him. One of his fellow countrymen was also in attendance and we're not taking about Marc Willers. 14x Maynard Peel (World #3) is riding for Phoenix Pro Cycles and nearly got himself a win in the wind. He and Kevin Pauls had an epic drag race down Black Mountain's super smooth first straight.  Pauls was barely able to hold off the hard charging kiwi and take the victory.
Florida
Florida was the last stop of the 3 races we were doing. Multiple flights later and we had arrived in Florida. This stop on the circuit was a Pro round which meant Nick Fox would be in attendance. Rico was excited again to be able to travel around the world and meet kiwis at 2 out of the 3 rounds. Marc was also there but he has become a permanent feature on the US circuit. Nick had it pretty tough with 70+ AA pros with the big names in the sport there. He was riding awesome and footing it with the best, even giving Sam W a hurry up in one race; it's pretty cool to see that he is doing really well in the states. Even though he isn't on the HP team it shows that if you really want it you can work hard, put the hours in and succeed yourself.
The racing again was tough in Rico's class but he managed to get wins on both Saturday and Sunday. With the wins he has achieved it has put him on top off the USA NAG points which is a pretty big thing in the states.
The coolest thing about the Florida race wasn't that Rico managed to get the wins but to be able to watch the pros. Not watching them race, it was awesome to see how the pros interacted with everyone at the race, they didn't exclude themselves from everyone thinking they were better. The kids were throwing balls with Maris in the car park, chilling with Connor Fields, Sharrah, Herman, Alise Post, Mariana Pajon – the list goes on. The attitude they have was awesome to see, something maybe some of our top rider can learn from.
BMX NEWS REPORT
We last saw Kiwi Rico Bearman in Louisiana. And here he was, tearin' it up Oldsmar as well. This is first round, third straight sky action on Saturday. Rico was suave in Florida.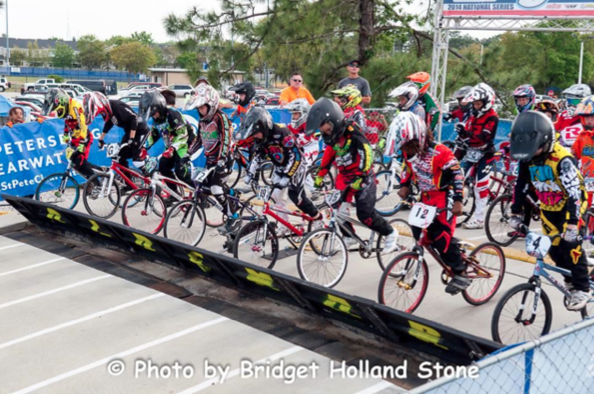 Australia 10th-11th May
It was a last minute decision to hop across the ditch to compete in the Pine Rivers & Caboolture double header. The 11 boys' class in Australia is pretty competitive and provided some awesome racing. The defending 11 year boys World champ was present amongst other top ten Aussie plate holders.
Having never ridden either of these tracks and arriving at midnight the night before racing would be great for having limited time to dial in a track. Being able to adapt to a track as quick as possible has to be a bonus when not competing on your local track.
Racing on Saturday went well with Rico taking four wins from four, which had him first on points heading into the final day. Final day consisted of three more motos then it was semis and finals time.
The final was pretty stacked as far as 11 year olds go. It was a long and fast first straight with Rico rounding the first corner in first and he managed to hold onto that lead until the line. With racing done and dusted in was time for a quick swim at the Tucker household and off to the airport for another midnight arrival home. Big thanks to the Tuckers for their hospitality and Pine Rivers BMX for getting us over there and putting on an awesome BBQ and race meet.