The 26 riders in the Mighty 11 Boys selection and 11 riders in Mighty 11 Girls selection were put on hold at the 2014 BMXNZ National Championship as Tauranga BMX Club was hit by a weather bomb delaying racing. The Mighty 11 trialists have trained hard for this event and their expectations were rewarded on Saturday as the track was in great condition despite the heavy weather.
Tasmin Wakelin and Shakira Mirfin were the dominant riders in all four of the motos and were well placed going to the semi and finals. Jack Keown and Guy Johnston were battling Austin Lupton, Matt Pinkerton and Rhys Halligan for finals places as well. The motos were contested vigorously and riders were made to work hard for their placings in the Mighty 11 Boys selection.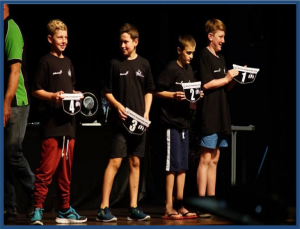 Tia Hastings Thurgood and Mia Tuigamala were on equal points Niamh Masson, Brooke Compain and Renee O'Hearn were also contesting for a place in the Mighty 11 Girls selection. The top 8 riders in the girls were into the finals.
The semi-finals for the boys saw Guy Johnston and Tasmin Wakelin winners and Jack Keown and Auston Lupton in the second spots, with Bennett Greenough and Rhys Halligan filling the third places.
The final races for both teams showed which Mighty 11's were most determined to grab those places and Tasman Wakelin from the Nelson BMX Club and Shakira Mirfin from Southland BMX Club were the most successful. They will be the captains of their respective teams when they meet Australia in the Mighty 11 Test.
Jack Keown from Christchurch BMX Club, Guy Johnston from Cambridge BMX Club and Austin Lupton Te Awamutu BMX Club will be members of the Mighty 11 Boys Team.
Tia Hastings Thurgood from Cambridge BMX Club, Mia Tuigamala from Waitakere BMX Club and Niamh Masson Tauranga BMX Club will represent the Mighty 11 Girls Team.
Clive Telford will be the coach and Sharon Cheesman the Manager. Congratulations to all of the successful riders and to all of the Mighty 11 trialists who make this event a long standing tradition of the BMXNZ racing scene.