On Monday 10th of February 2014 Sarah Walker, Hannah Sarten, Tahlia Hansen and myself (Hayley Gedye) flew to Brisbane
, accompanied by Ryan Hollows and Mark Holland, to train on the Sleeman Supercross track for the week. And what a week that was! BikeNZ had hired Sleeman Track twice a day with two hour periods Tuesday – Thursday. We stayed at the Sleeman Sports Complex and only having to bike two minutes to get to the track was awesome!
Tuesday afternoon we went and checked out the track, had a look at the jumps, worked out what we were going to do each straight and get prepped for our first session in the morning. Tuesday morning we had our first track session on the SX track. We had one and a half hours to get the feeling of the track. The session went so well for us; we all had jumped the first jump and we were all pretty happy with how we were riding and were all looking forward to racing the next day.
Our next session was Tuesday afternoon, but only for an hour this time. We had local, and the current Aussie Elite Champ, Melinda McLeod join us this time. We were watching the lines she took; trying to figure out what was the best and quickest way down the straights. It was good having a local show us how to get through quick.
Wednesday was business day. We had time trials in the morning and racing in the afternoon. Sarah took the win in TTs, with myself in second, Tahlia third and Hannah fourth. After TTs we headed back to our rooms to have some lunch and prepare for racing in the afternoon.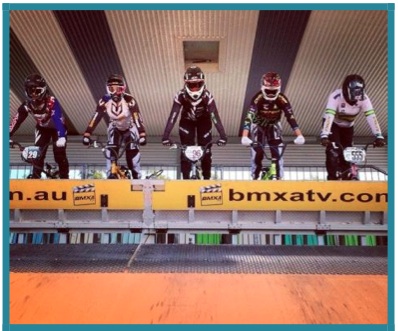 Elite and Jnr Elite Kiwi Girls on the gate at Sleeman
Come racing time the wind had picked up, but that didn't stop us. Racing went really well. Racing was close to the bottom of the ramp. Some close racing happened, but the track was super long and so much fun.
Come Thursday we were a girl down as Sarah flew home for the Halberg Awards.
The track sessions for Thursday were just fun sessions and working on areas we needed to. We were pretty tired by this day, as we rode hard Wednesday, so not much riding happened. Tahlia and I thought we would give the Mens First Pro a go as our confidence was sky high. We pretty much worked on first and second straight Thursday as they were the most fun.
Elite and Jnr Elite Kiwi Girls on the gate at Sleeman
Friday we flew home and the trip was over – bummer! All in all it was a successful trip as all of us stayed on our bikes! (Credit Hayley Gedye)