He was told he may never walk again, but Stuart Crichton was determined to beat the odds.
The Invercargill meatworker suffered extensive spinal damage after an accident during a competitive BMX race which left him paralysed in Invercargill in November 2015.
The outlook was grim for the 44-year-old father of four; doctors told him he may never walk again and he would have little function in his arms and hands.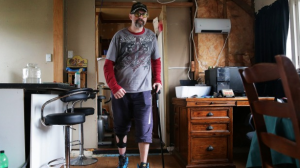 But the South Island BMX stalwart has beaten the odds and is now walking with the aid of a cane.
It was the first race of the night on November 27, when Crichton got off to a bad start, right at the back of the pack. Two cyclists had their elbows locked in a tussle ahead of him and before long one came off at the top of a jump.
As Crichton approached he attempted to jump the rider, but clipped his bike and flew over the handlebars head first.
The accident hyperextended his neck, crushing his spinal cord, and he was rushed to Christchurch where doctors told him it was unlikely he would walk again.
On March 17, nearly four months after the accident, Crichton was discharged from Christchurch's Burwood Hospital spinal unit and returned home.
Doctors had earlier told him he would not be going home for seven months.
Taking his first step was a proud but difficult moment, he said.
"It was hard, just there's so many things to think about just standing up."
What was instinct before the accident became a mental challenge: remembering how far to lean forward, to hold balance and remember which muscles to contract all at once was a struggle, he said.
Physiotherapy at Burwood began with muscle stimulation of his arms. He was then put on a stationary bike and was meant to have his leg muscles stimulated with electrodes.
But Crichton wanted to relearn the instinct, after all he had been cycling almost his entire life, so he focussed on pedalling without the electrodes, he said.
Then he began physiotherapy, involving hoists and a "jolly-jumper" which helped hold him up as he learned how to walk again.
Patients in the spinal unit fed off each other's progress, he said.
"When you see someone do something you're happy for them but it really motivates you to get up there and do it yourself."
A battle with depression a few years before the accident gave Crichton the strength to take on his paralysis with a positive outlook. After all, it was not his darkest moment, he said.
"There was still a positive that I was still alive and could still do stuff. I just concentrated on getting better.  I didn't want to dwell on the negatives."
He never gave up hope he would walk again, and the sensation in his extremities made him believe he could do it, he said.
When it was time to come home, he was ready for a bit of normality back in his life but he did miss having all his meals prepared and laundry washed for him, he said.
But being back among his family and sleeping in his own bed felt good.
"It was great when the family were up there [at Burwood] but it just wasn't normal."
After conquering walking, Crichton's next focus is to get strong enough to return to work at Alliance Group's Lorneville plant.
He is attending two physiotherapy sessions a week, one with a hand specialist and the other to focus on repairing the rest of his body.
As for BMX, he said he would love to make it back on a bike.
"I don't know if I'd competitively race. I don't know what the weakness is in the body but it'd be nice to ride again."
 – Stuff