Tauranga BMX Club rider Karepa Heke-Kaiawha, 11, will captain the New Zealand Mighty 11 boys' team against Australia in Penrith, Sydney in June.
The Tauranga Intermediate student was selected on day one of the 2016 BMX NZ National Championship held at the Sunset Coast Club in Puni, near Pukekohe on Good Friday.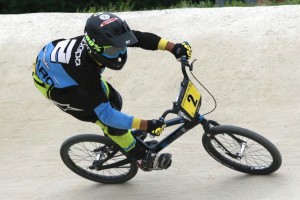 Qualification was over five races including a final. It is a key feature of the nationals.
Former Tauranga BMX riders in Olympian Kurt Pickard, Shania Rawson and Kieran Ngatai have captained the Mighty 11s in the past.
Three other Tauranga BMX riders in Matt Hill (Tauranga Intermediate) and Tayla Arnold and Elliot Kale (Otumoetai Intermediate) also trialled for the New Zealand teams but despite performing well just missed the final selection in the four-rider teams. Going into the final showdown Karepa was one point ahead of James Whyte from Auckland's Mountain Raiders BMX.
Karepa had the lead going into the first corner, however after being overtaken going into the second straight the captaincy was decided only a few metres before the finish line, with Karepa flying down the last straight to take the win and remain unbeaten.
"This is the most memorable and proudest moment so far in BMX over seven seasons of racing," Karepa said.
Karepa and his team will race off against two current Australian world number one champions with New Zealand's own world champion Leila Walker from Cambridge leading the girls' team.
The BMX NZ Mighty 11 teams:
Boys: Karepa Heke-Kaiawha (Captain) Tauranga BMX Club, James Whyte (2) Mountain Raiders BMX, Logan Hall (3) Cambridge BMX Club, Daniel Butterworth (4) Rotorua BMX Club.
Girls: Leila Walker (Captain) Cambridge BMX Club, Megan Williams (2) Rotorua BMX Club, Brooke Penny (3) Te Awamutu, (4) Caitlin Flavell Rotorua.